The best time to write about ice is early in the winter season when it is still a novelty. It loses much of its magic "fairydust" quality by mid-season and becomes downright evil by the time January is laid to rest. In short, ice rhymes with nice in December and with lice in February. Ice also photographs better early in the season before the rest of the landscape becomes coated with whiteness and all waters become solid. This perception is purely personal, I suspect, but don't expect that many folks would disagree with me.
There is no deadlier combination than an amateur digital photographer and a frigid December day. Such a mix leads to multiple useless "Art Shots" suitable only for computer screen backgrounds and postings by amateur nature photographers. Thus, I explain the images attached to this chapter of Naturespeak.
My December day, and resulting shots, issued from the banks of the Red Cedar River in Williamston, MI. I'm not sure how I ended up there, but it had something to do with a car and a half day to kill. There might have been a talking Chipmunk involved, but I can't fully recall the details. The temperature was hovering in the low twenties and the earth was covered with a carpet of heavy frost. Even the trailside garbage looked attractive ornamented as it was with hoar frost, but I chose more photogenic subjects. A small South American monkey could have taken these shots, but no diminutive forest primate is capable of describing them properly. A talking Chipmunk could, but that is beside the point.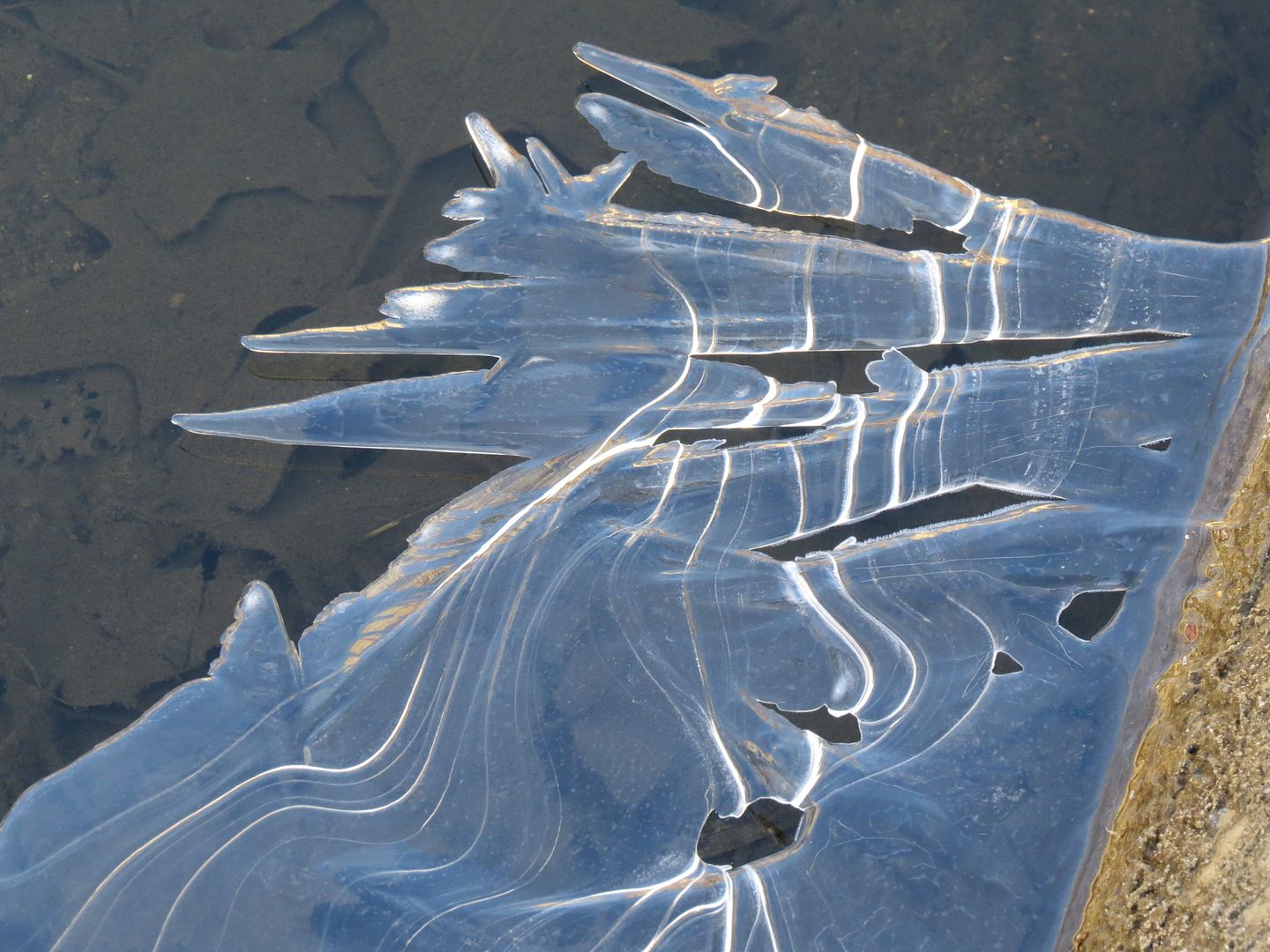 Another side effect of art photography is the use of overly poetic descriptions. As you can see I was intrigued by the shoreline ice which sent steely blue bayonets marching out to conquer the yet unfrozen water of the river. You see, that is what happens. Here are a few shots of shore ice and I am talking about bayonets. Sad, isn't it? One must suffer for his art.
Sun is the enemy of frost. As the morning waned, old Sol was rising and melting the work of old Jack (frost). Shadows tried in vain to shield the morning ice from the warming rays but without hope of success. Of course, vain means without hope of succeeding and it was totally unnecessary for me to have said it in the same sentence but art required of me to do it. You must read this and feel the suffering of art as represented by repetitious sentences. Yes, repetitious sentences that repeat over and over like frost forming and dying day after day repeatedly.
Frost shadows hang onto the perimeters of the real shadows until they eventually lose the race and are vaporized. You can see this phenomenon dramatically depicted in a series I call my "Bottom Edge of a Chicken Wire Frost Shadow on a River Board Walk in December" set. I like the temporary nature of frost shadows. It's too bad I caved into my South American monkey instincts and made them permanent.
My last shot is the least remarkable in terms of artiness, but I post it here because of what it represents. It is an effort to salvage some sense of scientific value to this blog. You see large fuzzy green Mullein leaves remain fuzzy and green throughout the winter months. Part of their resilience stems from the fact that they never indulge in art photography, but their fuzziness also has a role. Liquid water cannot freeze directly on the leaves because it is held above the surface by velvety hairs. Here you can see frozen beads of so ice suspended on a Mullein leaf. And you'll notice that the ice beads have hoar frost attached to them – ice on ice. Nice.
Come to think of it, South American Monkeys have soft short hair too. I suppose they could also avoid freezing just like Mullein leaves do but they'd have to keep still and close to the ground in order to pull it off. Come to think of it, a minor monkey lying still on the winter ground and covered with hoar frost is called a dead monkey, so we'd better get off this line of narrative and put this one to bed. Art has reared its head high enough for now. Sleep well my digital camera; your human will take you on another adventure soon.