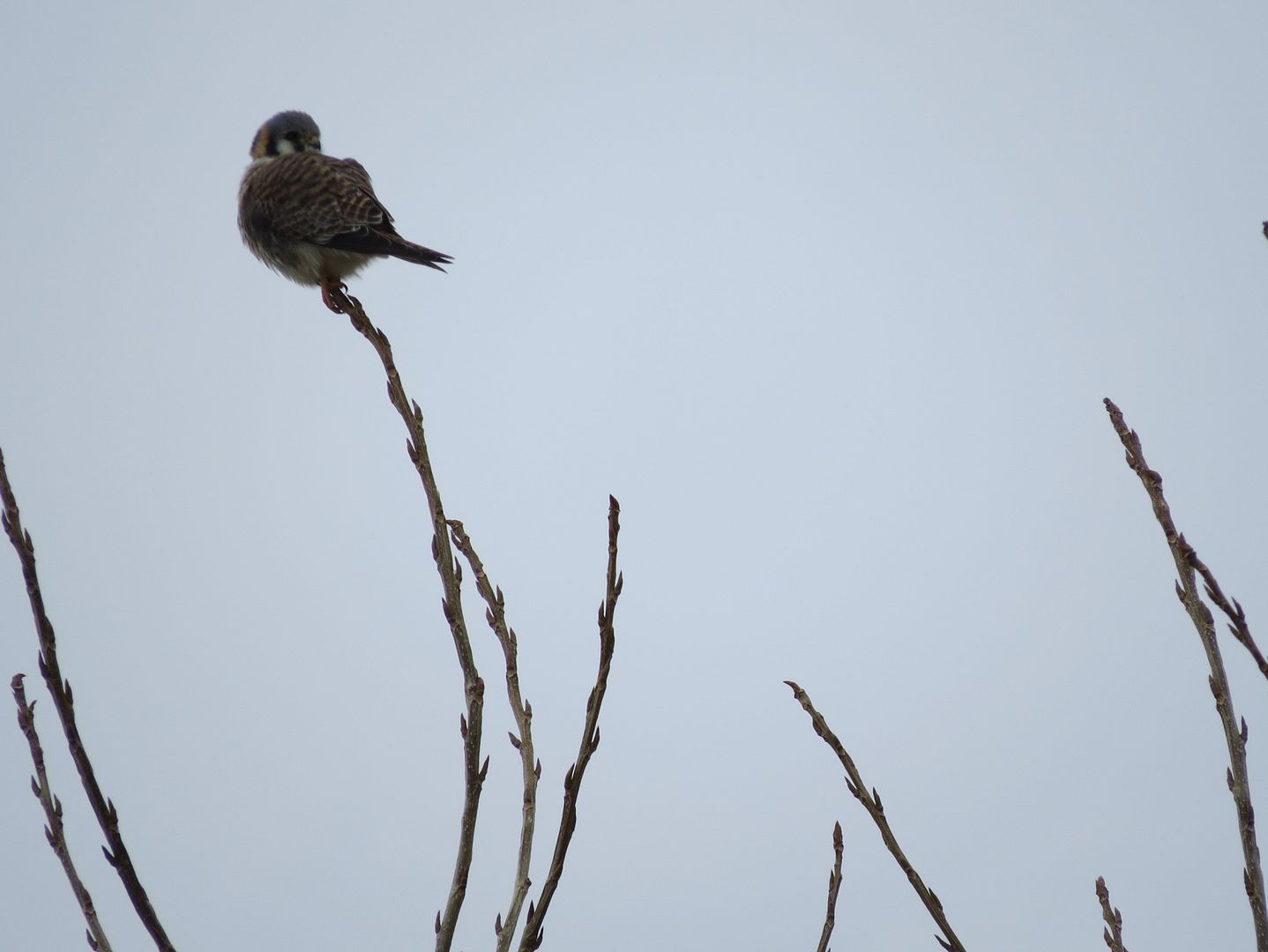 Monroe County is located on ancient lake bed. The flat land is the product of a time when Lake Erie had aspirations of grandeur. Flush with the melt waters of the great glaciers, the lake once lapped against the moraine hills around Ann Arbor (before the University was there, of course). Eastern Cottonwoods are the dominant tree here because they thrive in the moist clayey soils deposited during that time. They can attain great height and size and are, in a contorted and sad way, our version of the Redwoods. They lord over the landscape where you don't have to get very high to lord over (it).
It is natural, therefore, that local birds of prey gravitate to Eastern Cottonwoods as their observation posts of choice. It is fitting, although bordering on sarcastic, to say that if you seek b. o. p.'s then look in the high branches of the E. C. T.s. I offer three examples – actually two and a half – as my exhibits in today's blog.
Throughout S.E. Michigan, and especially along the Detroit River and Western Lake Erie, Cottonwoods and Bald Eagles go together like bad taste and reality television. They build their massive nests in them, roost in them, and generally perform their daily work among them.
I spotted one of the resident Bald Eagles eying the River Raisin on a recent bitter January morning. Perched high in the branches of a large Cottonwood on the opposite bank, the mature Bald Eagle technically wasn't "working" at the time I observed it. It was looking around but not down – which goes a long way towards explaining why the hundreds of Canada Geese and Mallards cavorting in the icy water were unconcerned. Fish are the major item on the eagle's menu, but waterfowl are often a preferred side dish so it is wise for them to pay attention to the moods of a nearby predator. This eagle was chilling – In more ways than one – and therefore not a threat.
Further east, and a week later, a male Kestrel chose the highest possible end of the highest possible branch on a medium sized Cottonwood at Sterling State Park along Lake Erie. Proportionally, however, this bird of prey was about the same size to its Cottonwood as the Eagle was to its tree. The tiny raptor was using his cottony perch to scan the grassland below for Meadow Voles. Occasionally it shifted its head from side to side in order to get a perspective view of a potential target and then nervously pumped its tail upon discovering that the movement was generated by a wind driven leaf.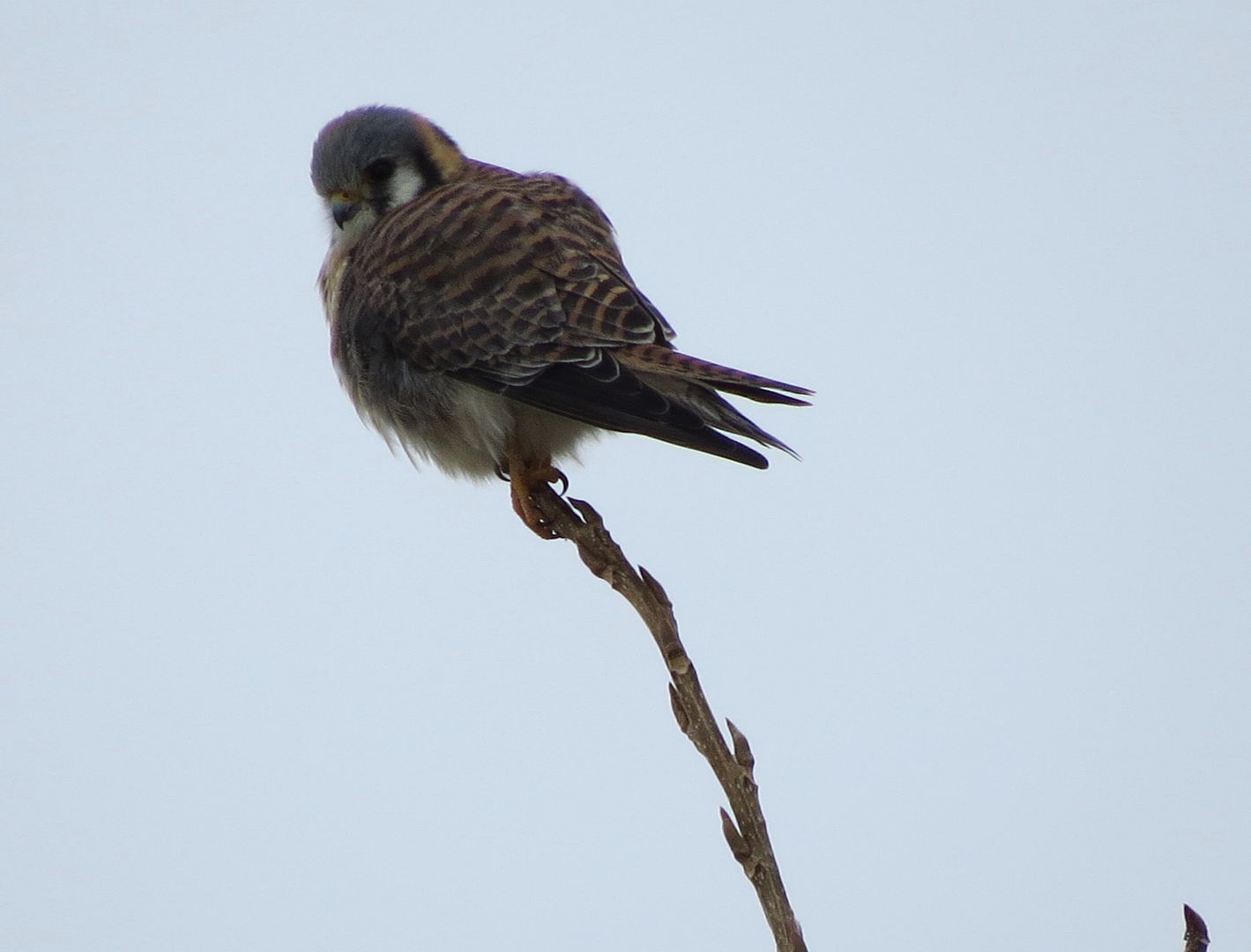 The bright colors of the American Kestrel are muted in the dull light of mid-winter. Feathers fluffed out as protection against the cold further diffuse this colorful attire. Even so, this bird could not hide its varying hues of orange, rust, and slatey blue.  Black "eye spots" on the back of the head were especially visible on this hunter. The Kestrel did not make a kill during the time I watched it and cast quite a few "act like a tree and leave" glances in my direction before I got the message.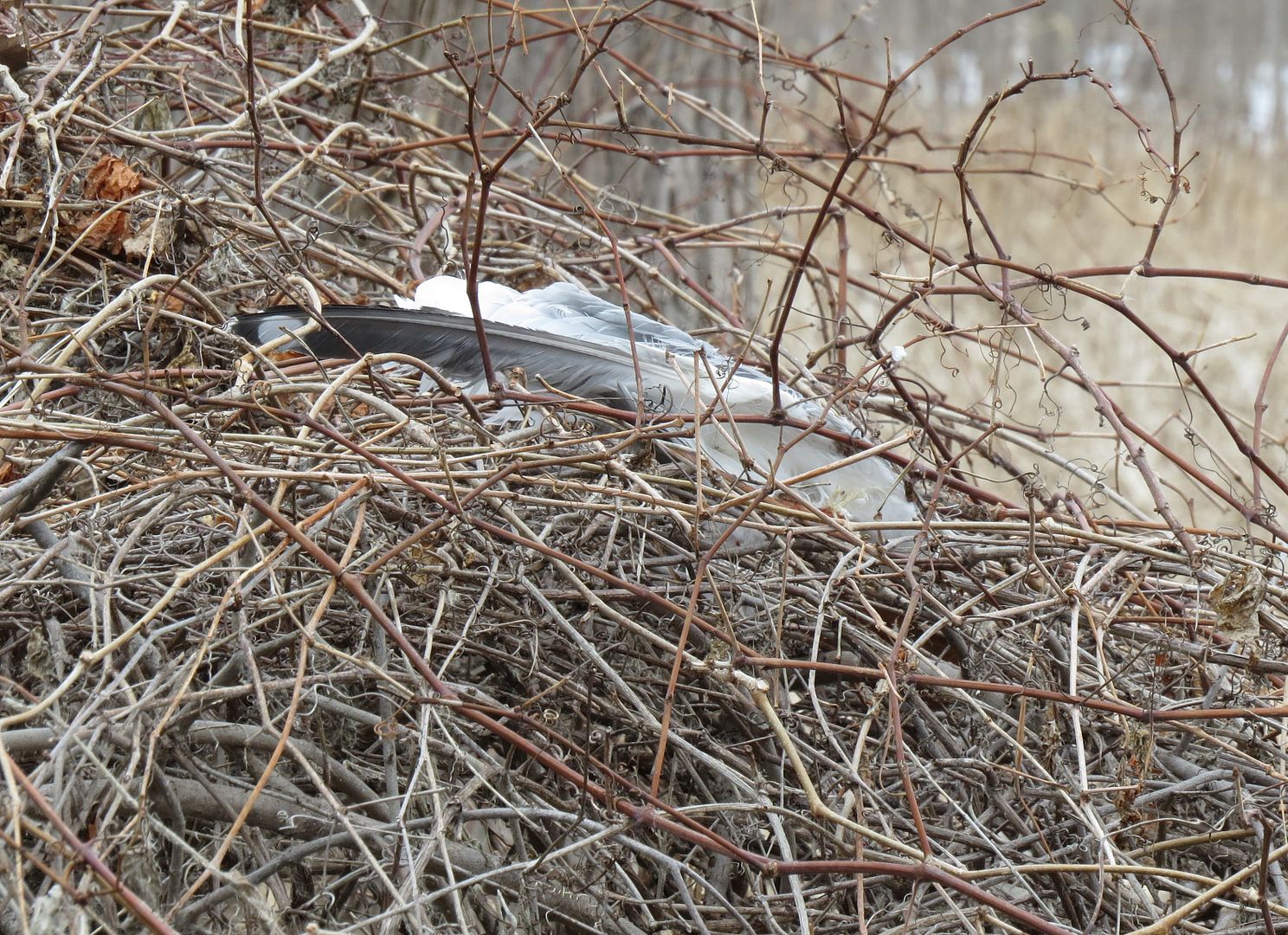 My final offering comes in the form of a pellet as opposed to an actual predator in a Populus tree. Found on the ground beneath the cover of a vine tangle, this large pellet (about 3 in. long) consisted entirely of Ring-billed Gull feathers and bones. I can state the feather identity with certainty because of the single Ring-billed Gull wing that laid atop the vine cluster overhead (see above).  Scattered down feathers and whitewash lay about the place. The branches of a huge Cottonwood towered over it all, of course. There is little doubt that a large bird of prey sat upon its branches while discombobulating the unfortunate gull – dropping pellet, parts, and poo in the process.
I cannot say for certain who the pellet perpetrator was in this case but will give it a hoot. Owls and raptors (daytime birds of prey) both cast pellets. I am guessing it to be from a Great-horned Owl due to the tremendous size and relatively good condition of remaining quills within. Snowy Owls also produce such pellets but rarely chuck them in a wooded setting. A Peregrine Falcon would be a likely raptor candidate – especially given their bird-oriented tastes – but from what I can decipher their pellets are much smaller and more amorphous (due to stronger stomach acids).
So there you have it. Cottonwoods and carnivorous fowl have a somewhat commensal* relationship in this neck of the woods (or foot of the water, as it were). These birds of prey were definitely barking up the right tree – even if it was really the only tree!
*Definition time: Commensalism means a relationship in which one organism benefits while the other is relatively unaffected (in other words the Cottonwoods do not derive any benefit from the birds whereas the birds gain useful observation posts).