You may know, if you are one of the two people who actually read my blog, that I am a scientific name fanatic of sorts. I like them because 1.) you sound smarter than you actually are when you use them and 2.) they are quite fun and explanatory. With that in mind I'd like to introduce you to Bucephala clangula – aka the Common Goldeneye Duck. We'll get to the fun explanatory nature of that name in a moment.
The frozen waters of the River Raisin open up along several stretches along its route. A short riffle section running through the downtown section, just ahead of the Monroe Street Bridge, serves as a major gathering area for the local waterfowl. On some days this gathering consists of what appears to be every Mallard in the western hemisphere but on others it holds a nice little selection of divers such as Redheads, Hooded Mergansers, Bluebills, and Goldeneyes.
The diving ducks take advantage of the open water to bob under the surface for tasty crustaceans, aquatic insects, and pill clams picked out from the bottom gravel. This year, the Redheads and Goldeneyes are the dominant species. The Goldeneyes have attracted most of my recent attention because they are elusive flighty birds. They are hard to approach in the wild. Those occupied bucking the current and feeding on the River Raisin will put up with your presence long enough to allow for some quality observation time. It is almost as if they are on a duck treadmill of sorts and they have to constantly swim in order to hover over a particularly productive spot in the river.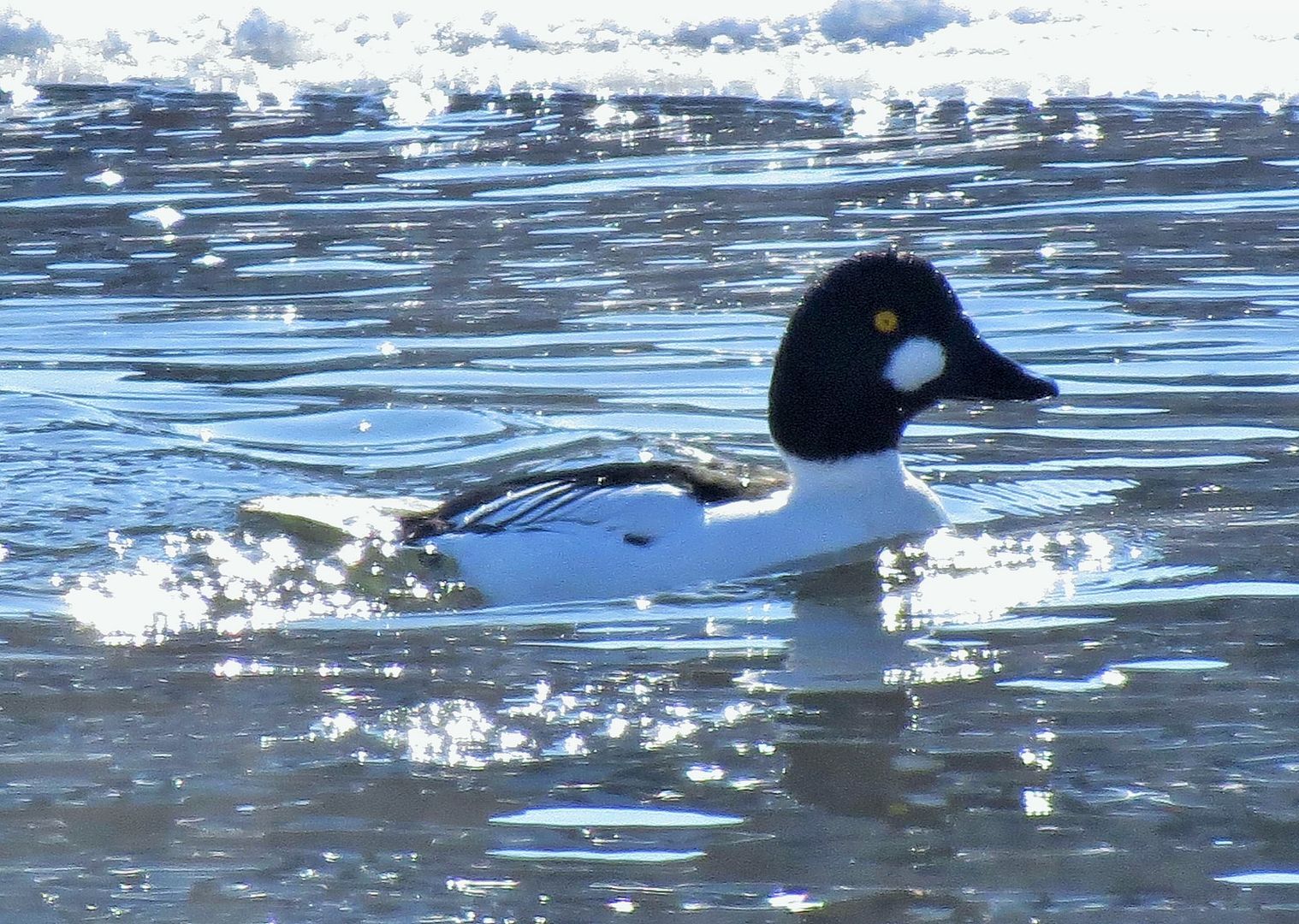 Male Common Goldeneyes (I have to keep saying "common" because there is another species called the Barrow's Goldeneye and I'd hate to confuse anyone more than I normally do) are distinctive in coloration. Actually they display very little true color, but are startling examples of contrasting pattern. The sides and belly are white, the back black, and the sides exhibit a pleasing zebra stripe design. The most obvious feature, however, is their enormous dark green head equipped with a bright yellow eye and a large white eye spot located betwixt the eye and bill.
Like most puffy-headed diving ducks, the head appears much larger than it actually is due to the feathering. Perched atop a slender white neck the heady Goldeneye looks the part of a living bobble head figurine. It should be obvious where the goldeneye name came from but the head is the key to the scientific name Bucephals clangula. Translated from the original Greek the name literally means "Screaming OxHead."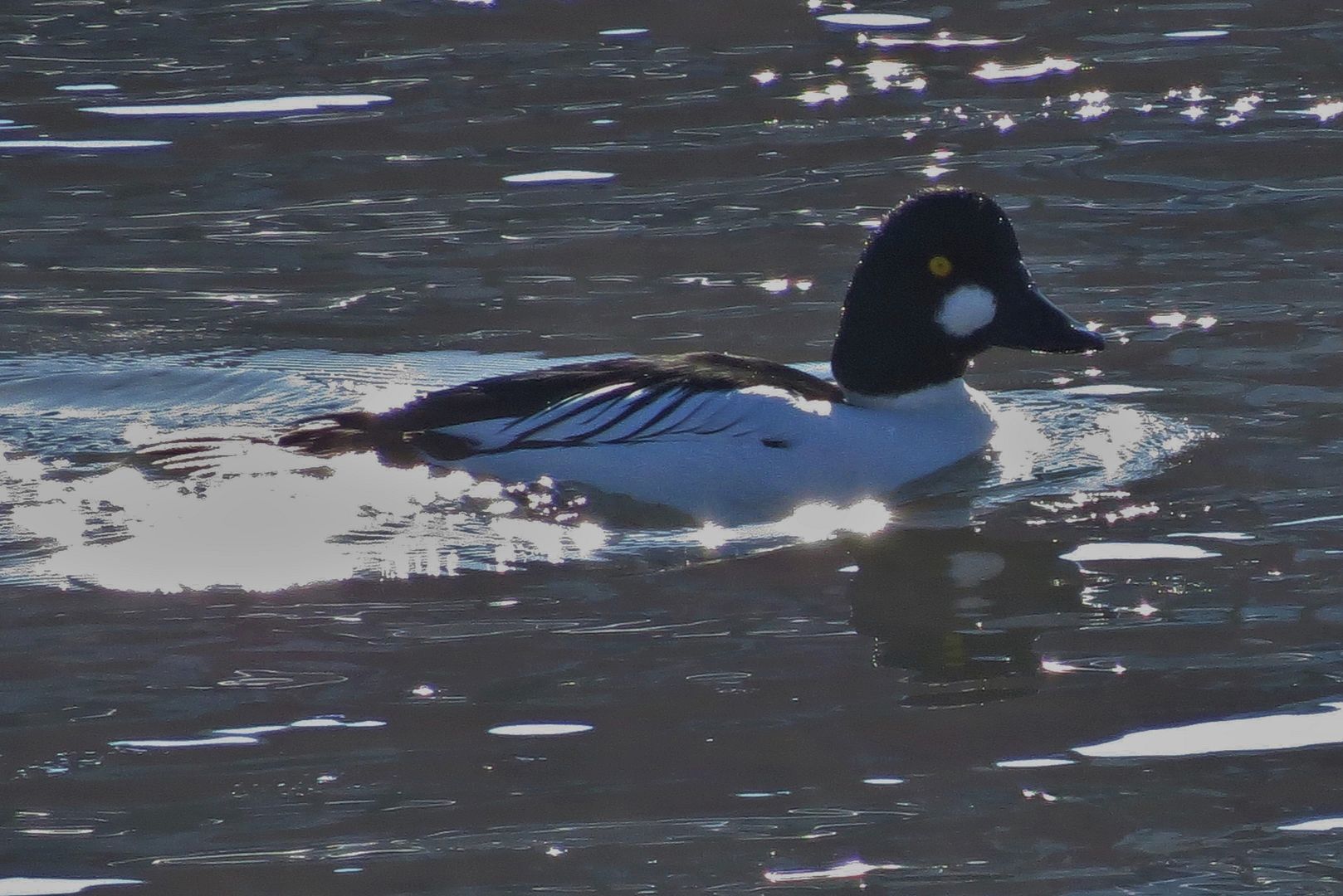 In other words, Bucephala, the "Ox Head" portion, refers to the Greecian way to say big headed. Alexander the Great had a beloved battle horse called Bucephalus so named because of its large head with large eyes. Goldeneyes have large heads. The species name "clangula" is a bit more problematical. This means "screaming" but could be interpreted as "to make an attention getting noise." Goldeneyes do not scream, and are not loud by any stretch of the imagination, but they do whistle. In this context the name makes sense.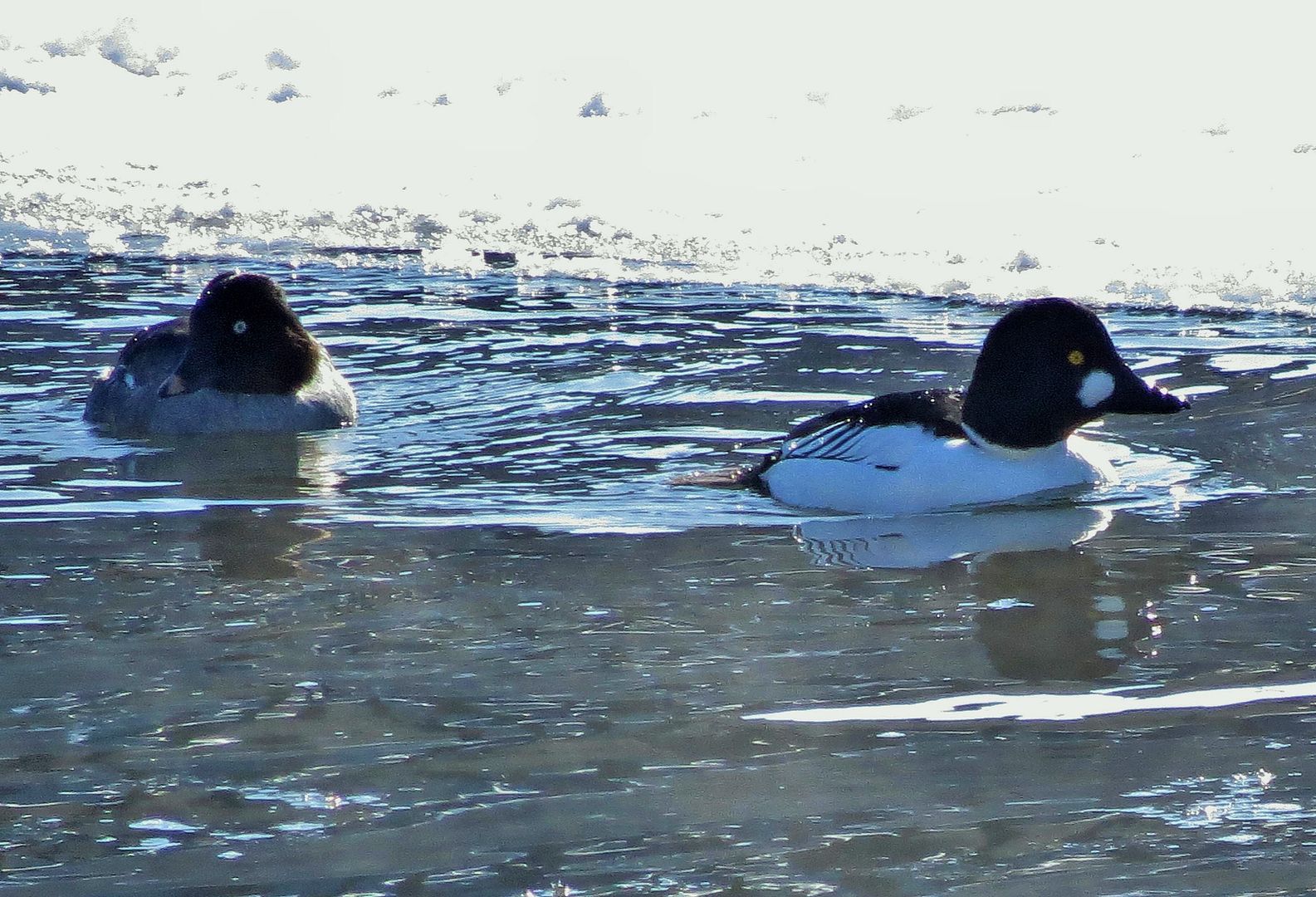 Common Goldeneyes are often referred to as Whistlers by duck hunters. Unlike Lauren Bacall these birds can't put their lips together and blow, but instead create this noise with their wings as they fly. The rush of air through their rapidly beating primary feathers generates a pulsing whistle that can be heard from a great distance. This advance warning noise gives you just enough time to pull your thoughts together and declare "Look, there be a flock of Screaming Ox-heads approaching yonder." On the water the birds limit themselves to quiet grunts and splashing dives and no such declaration should be made (especially if no one is in ear-shot).
It would be wrong of me to end this account without acknowledging the females of the species. That would be Pig-headed of me. The hens have an attraction all their own. Their largish heads tend toward a cinnamon brown color and their eyes are hued with a duller shade of yellow (thus they do not look as continually surprised as the males). With mottled gray backs, white bellies, and yellow tipped bills the smaller females do not scream for visual attention. Yet are worthy of a portrait. You'd almost certainly have to call any such painting of a hen Goldeneye "Whistler's Mother." Well, at least I would.