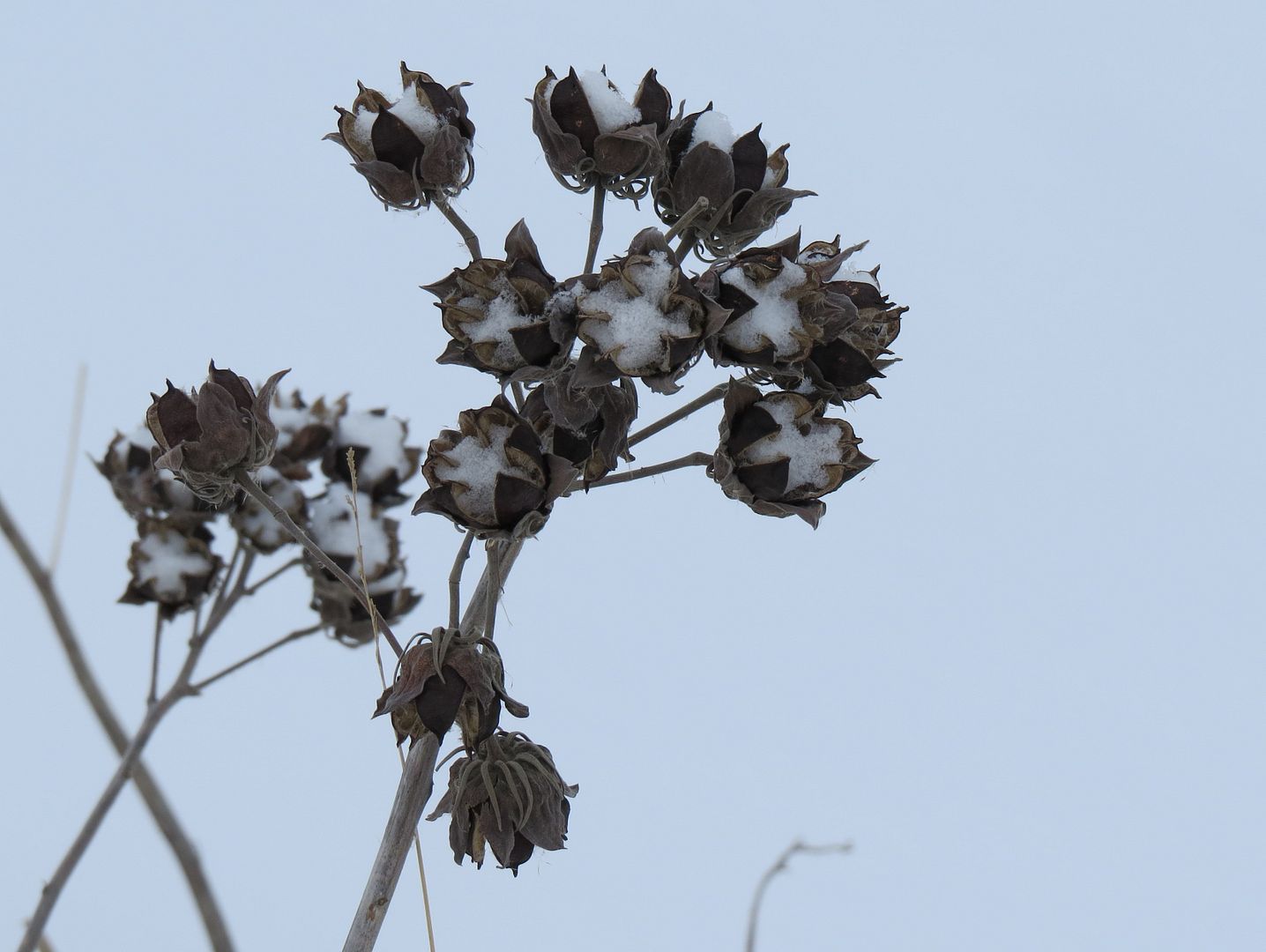 A walk out on the dikes at the Pointe Mouillee State Game area in the middle of winter can be a bit like walking the Arctic Tundra. It's little wonder that wintering Snowy Owls choose this place because it feels like home. Only broken cattail skeletons and clumped grasses serve as cover and because the dikes rise well above these there is no cover at all for the winter walker.  An infant breeze entering at lake grows into ferocious adulthood as it traverses the open expanse. In other words, it can be bitter cold even on "mild" days. The winter version of the marsh is not devoid of life, however, it's just that you have work harder to find it.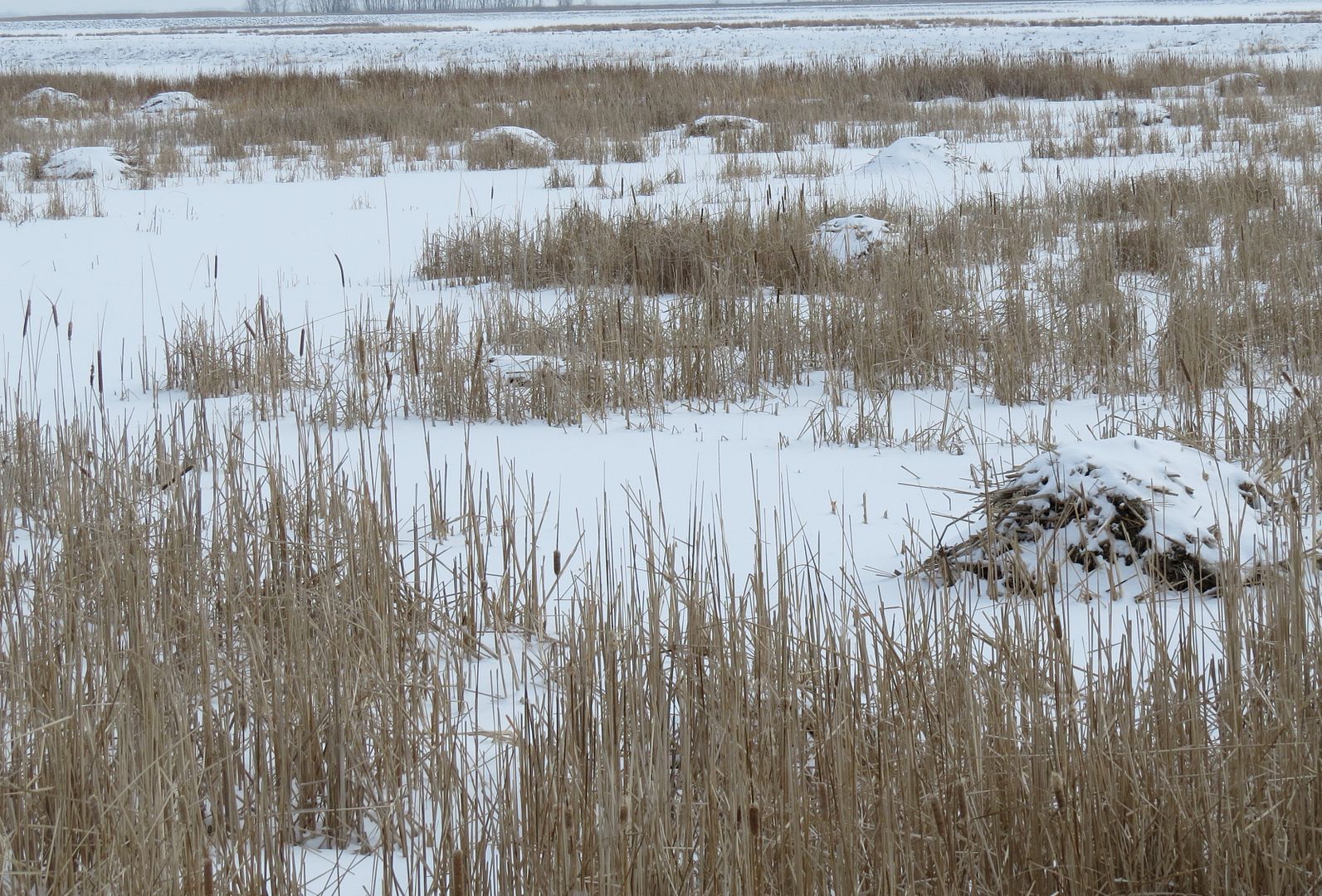 My last foray out onto the dikes was on a mid-20 degree day (that's F, by the way – I don't speak C). There was little wind, so the dreaded "Mouillee chill" was minimal.  A light snow refreshed the place and turned every Rose Mallow pod into an open cotton boll and highlighted the dome of every muskrat lodge in the 'rat-pocked landscape.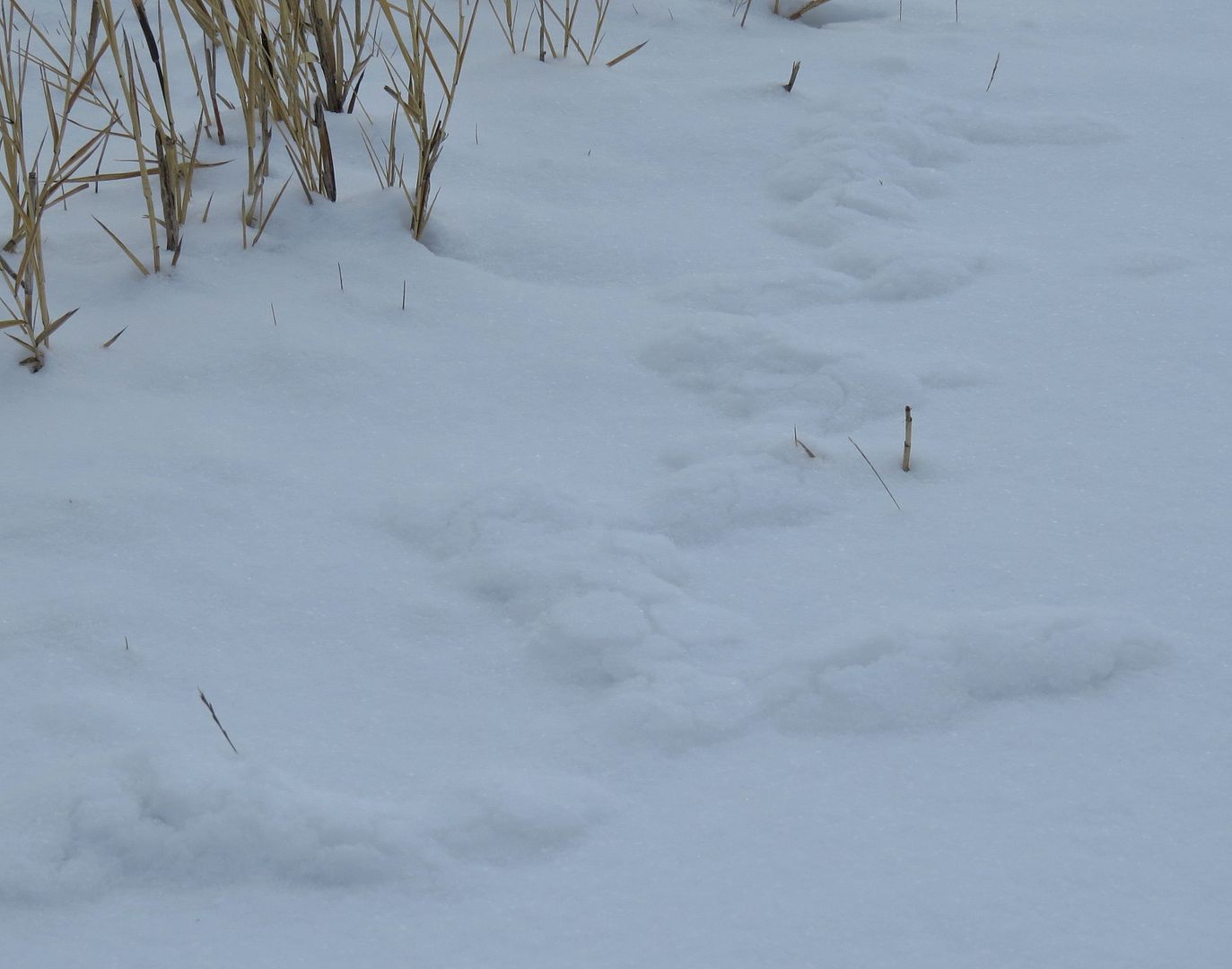 There was plenty of evidence that creatures were about on the previous evening. Countless Meadow Voles were taking advantage of the snow cover to forage on grasses under the snow. Their tunnels, evidenced by their fractured roofs and occasional exit holes, laced the dikes (see above).  Frustrated by such protective cover, predators can only hope to catch the slight movement of the snow in order to pinpoint the prey below. Brushed wing tips and talon marks indicate where one aerial predator attempted a halfhearted grab at an invisible morsel. White-footed Mice made frequent dashes across the open path during the night as well. Most executed a straight shot – slapping long tail marks from side to side as they went. The track of one individual, however, reveals a halted crossing, followed by a nervous retreat and then a renewed all-out dash (below). Perhaps it caught a glimpse of shadow from above or a movement from aside. You can never be too careful when you are a menu item.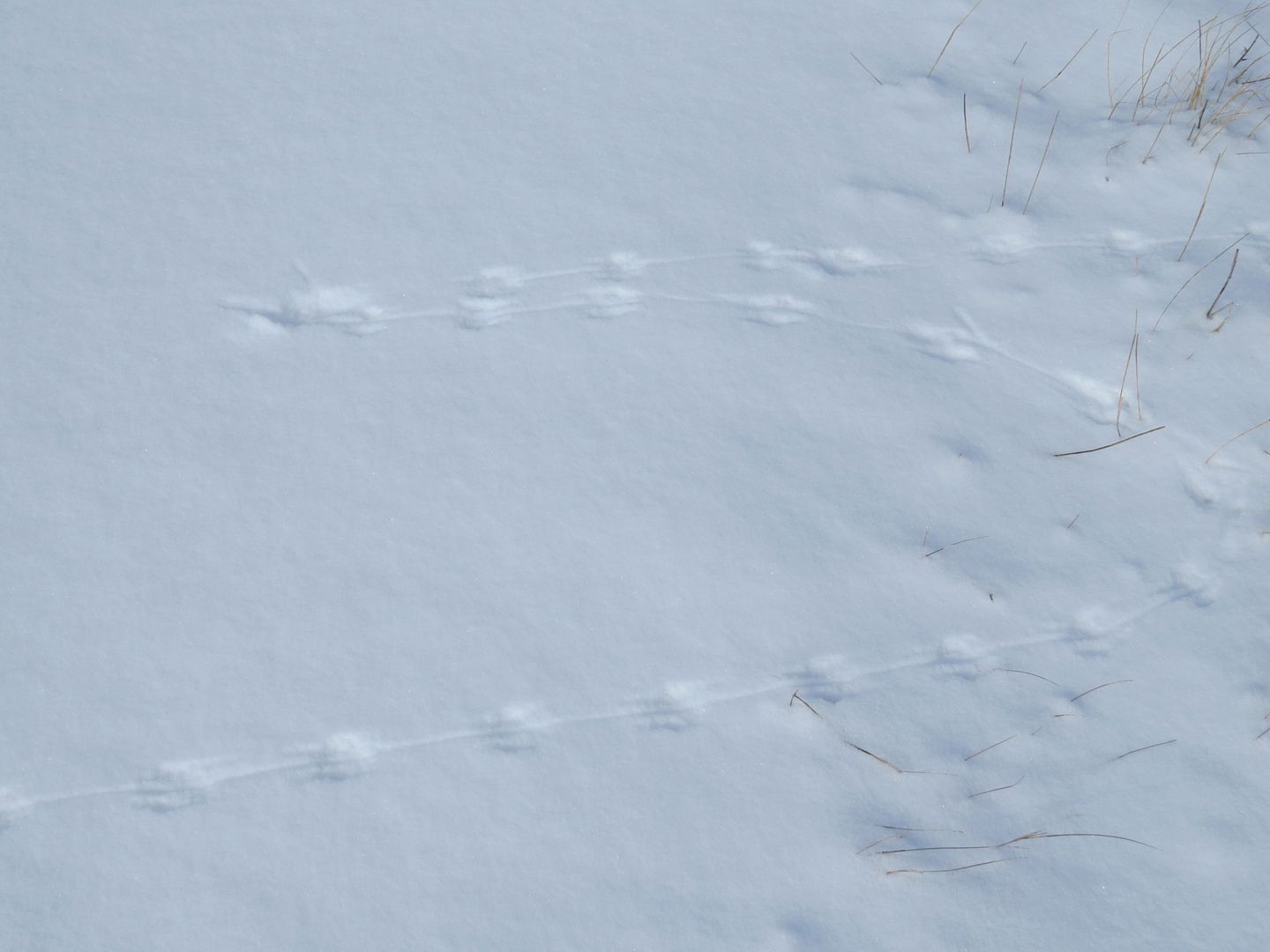 Coyotes evidently patrol every inch of the place on their nightly rounds. Sitting down to contemplate the view, one of the canines left a familiar mark in the snow. Clear heel and hind foot prints and shifting front paw marks indicate that it might have paused to lick a small cut – as suggested by a spot of blood in the snow near the haunches. Last week my daughter's Black Lab left a near identical mark (sans blood, of course) where it sat for several minutes to survey the back yard. Like two exclamation marks they mark the behavior of both wild and domestic dogs.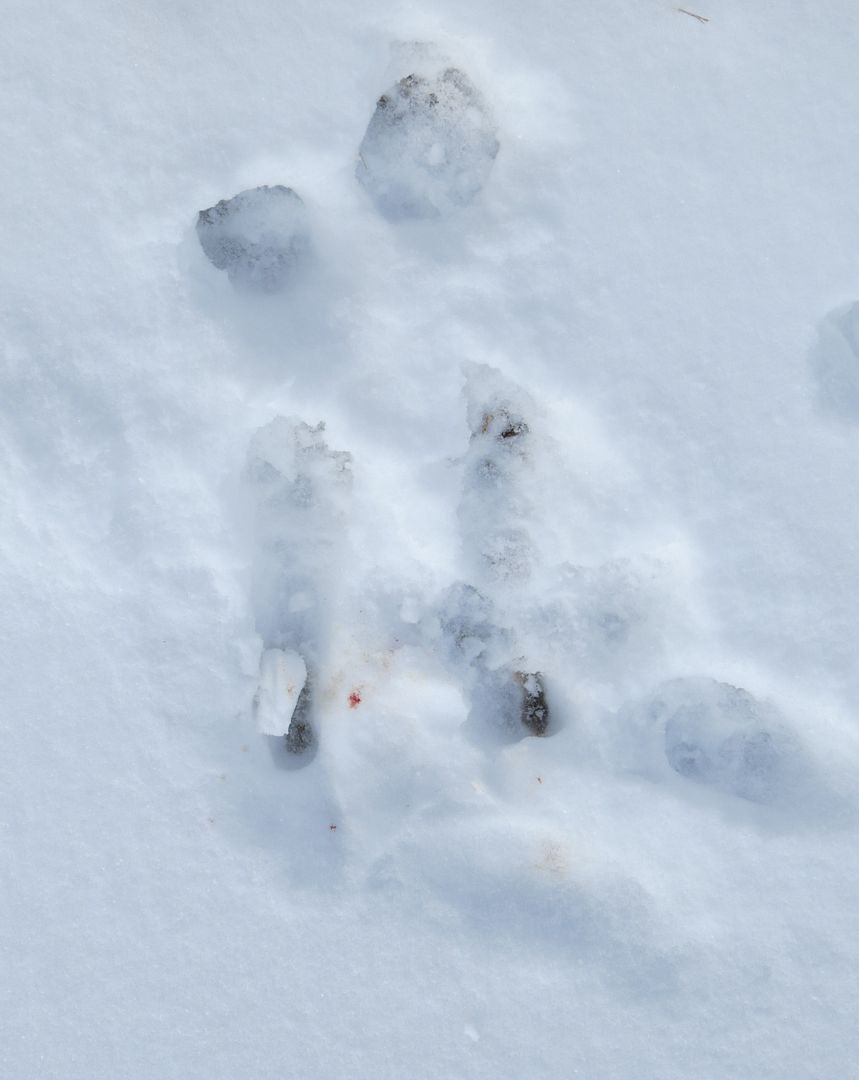 Perhaps the most surprising finds were several Tiger Moth caterpillars walking across the snow. I'll remind you that even though the sun was peeking out from time to time, it was in the twenties. These hardy insects were slowly making their way across the surface. Due to their lightness they left no tracks and due to their speechlessness did not offer an explanation for their seemingly risky behavior.
I believe they were Ruby Tiger Moth larvae – a worldwide species which feeds on a wide variety of plants such as goldenrod, ironweed and plantain. They overwinter under the snow as larvae and emerge to complete their growth and pupate in the late spring. They have a recorded habit of coming out onto the snow as caterpillars and can withstand freezing temperatures via a combination of anti-freeze saturated blood (full of so-called "crypt-protectors") and solar energy trapping body hairs and black skin color.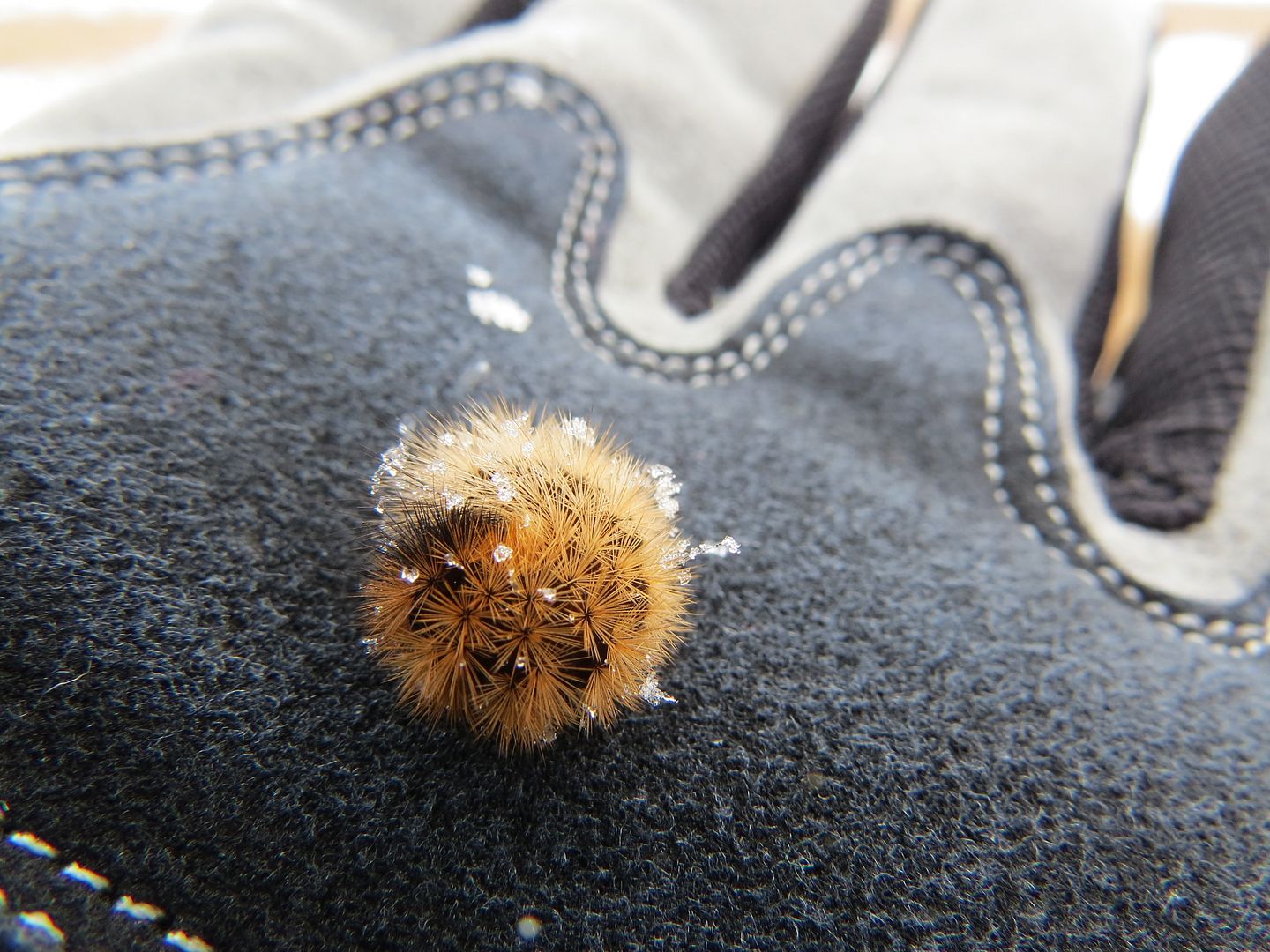 I did not spot any Snowy Owls, and only found a loose feather of a Short-eared Owl, but was treated to the graceful moves a pair of Northern Harriers. These birds perfectly represent the spirit of the winter marsh.
These slender marsh hunters floated low over the cat-tails and canary grass hummocks searching for the sight and sound of mice and songbirds. Like ghosts they passed by on silent wings -riding the light breeze and rocking ever so slightly from its effect. Both birds were marked with white rumps and held their long narrow wings with a species-defining crook at the wrist. The male was pale gray – nearly white – with stark black wing tips (above) and the female was dark rufous brown (below).
I tracked them for as long as I could but they vanished into the frigid landscape well before they should have been out of sight. Like many of the marsh secrets they probably chose to remain aloof and somewhat mysterious.