Last week I returned to my favorite mid-winter wildlife watching spot, that being the River Raisin where it flows through mid-Monroe, to see what the bear went over the mountain to see ("to see what he could see"). What I saw were a variety of ducks reveling in the ice bound patch of open water. There were only two female Goldeneyes present in the crowd but two of a kind proved too much in this case. One of them simply could not stand the sight of the other and let her know it.
For the most part the dispute consisted of short wild splash ridden chases. Guttural grunts from the Goldeneyes accompanied each act, but most of the noise was generated by the other ducks trying to get out of the way. The aggressor, let's call her "Maxima," came at "Minima" with a direct frontal attack. Wings were employed like oars along with foot kicks to drive the attacker forward. The attackee made no attempt to rebuff the assault and fled with similar flair – occasionally diving to escape.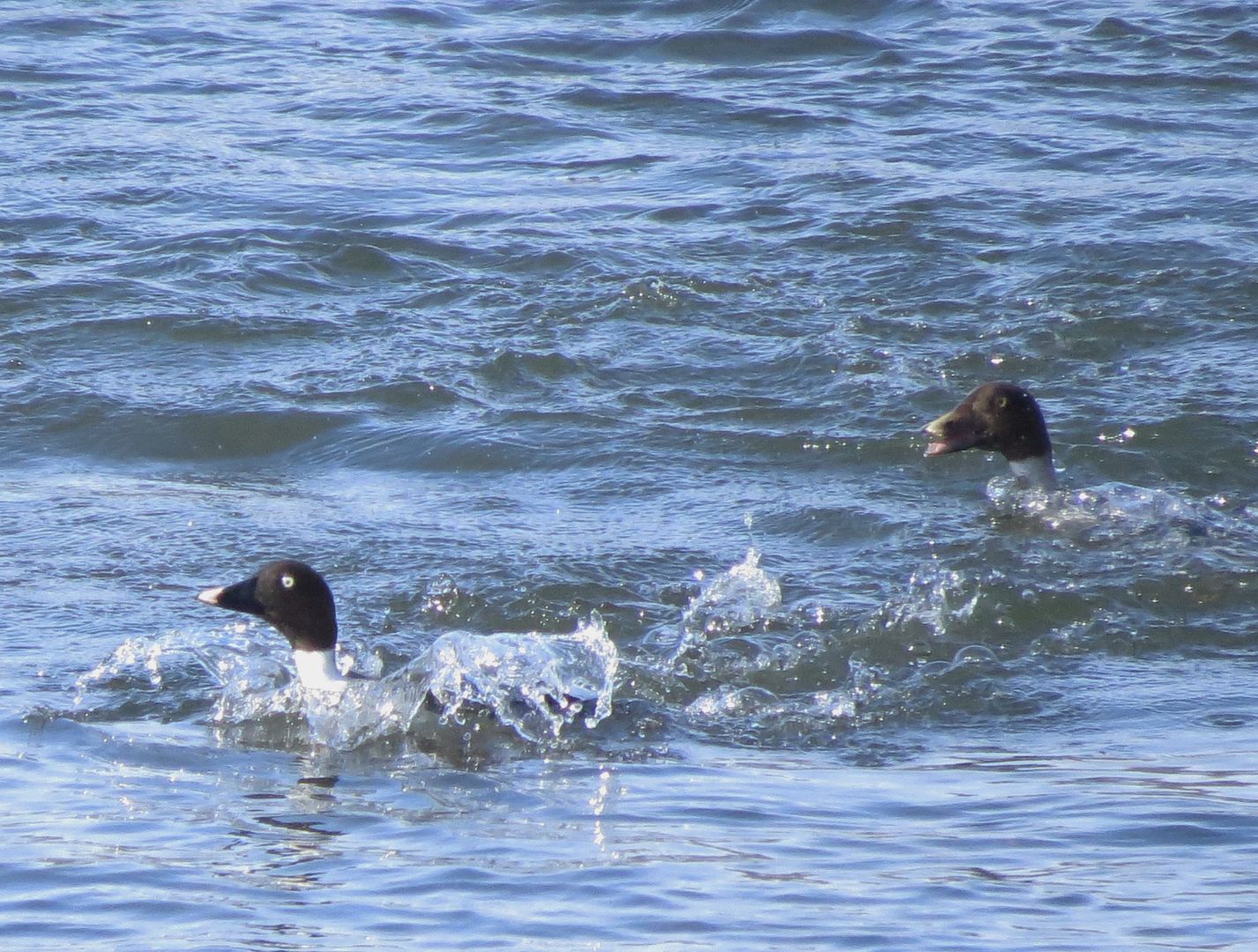 Although the action was fun to watch, the body posturing preceding each attack was even more entertaining. Leveling her head out even with the water surface, Maxima swam directly toward her rival at half speed before exploding into the previously described action. Often she dipped her bill into the water so that only the upper half of her head was visible. Viewed for the front, the bright yellow eyes were used to full intimidation effect. For all the world this behavior looked like the ship-ramming scene in "Twenty-thousand Leagues Under the Sea" where Nemo's submarine breaks the surface and speeds towards its hapless victim -the windows glowing with a fiery anger.
Such aggression at this time of year probably relates to courtship. There was a male bird a short way up river, although he was not yet in courtship mode. The aggressive female was possibly having a hissy fit at the thought of this hussy hanging around just in the event that "her" man-duck decides to start the dance. The hussy never actually left the scene, however, so these attacks were merely an exercise in futility.
We tend to think of ducks as picture-perfect stamp art and it is refreshing to see them as living beings with fire in the belly and in the eyes!