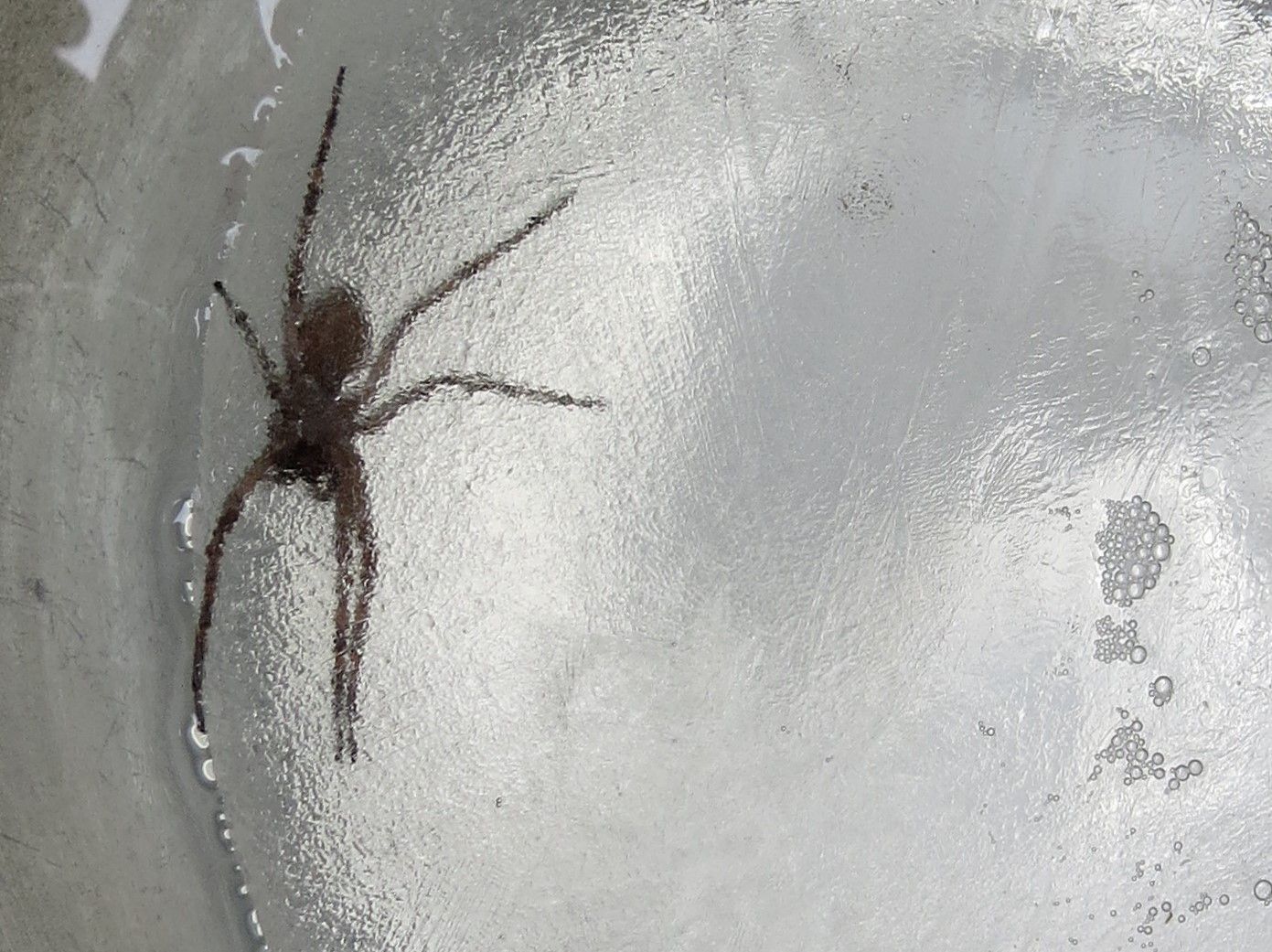 The spring flow of maple sap is just about at an end. In terms of the Red Maples I am tending this season, it is a stretch to say that the season actually ever started – it's been a poor year due to sustained cold temperatures and the natural whims of the annual cycle. It's a pressure thing, you see. Freezing nights generate the negative pressure for drawing sap from the roots and thawing days create the positive pressure responsible for moving that sap up the trunk to the branches (and into the buckets). We've had plenty of freezing nights but they've mostly been followed up by equally freezing days and thus the sap flow has been faulty. Follow?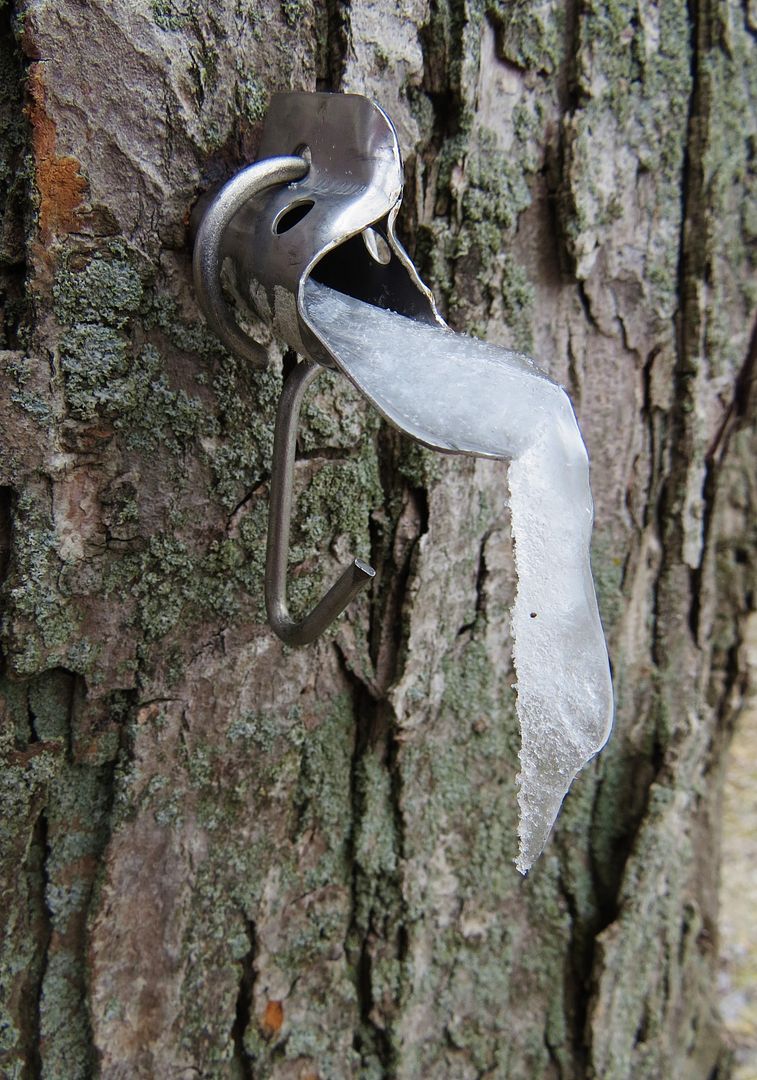 This is not to say that the sap buckets have been completely empty as of late. They've generated a supply of six and eight-legged contents worth talking about as we wait for the sap to melt. Spiders and Stoneflies are drawn to the buckets like flies to …well, you know.
After all, you know what they say: "A spider in the sap means eight more days of sugaring."  Actually no one says that- I made that up as a lame way to breach the subject.  A spider in the sap simply means that smooth-sided metal sap buckets are dandy spider traps. A huge Fishing Spider found herself trapped in one of the buckets early last week. I'm assuming she fell in when the bucket was dry and became immersed by a two day flow of sap. She was clinging to the bottom (aka water side) side of the skim ice and imprisoned thus.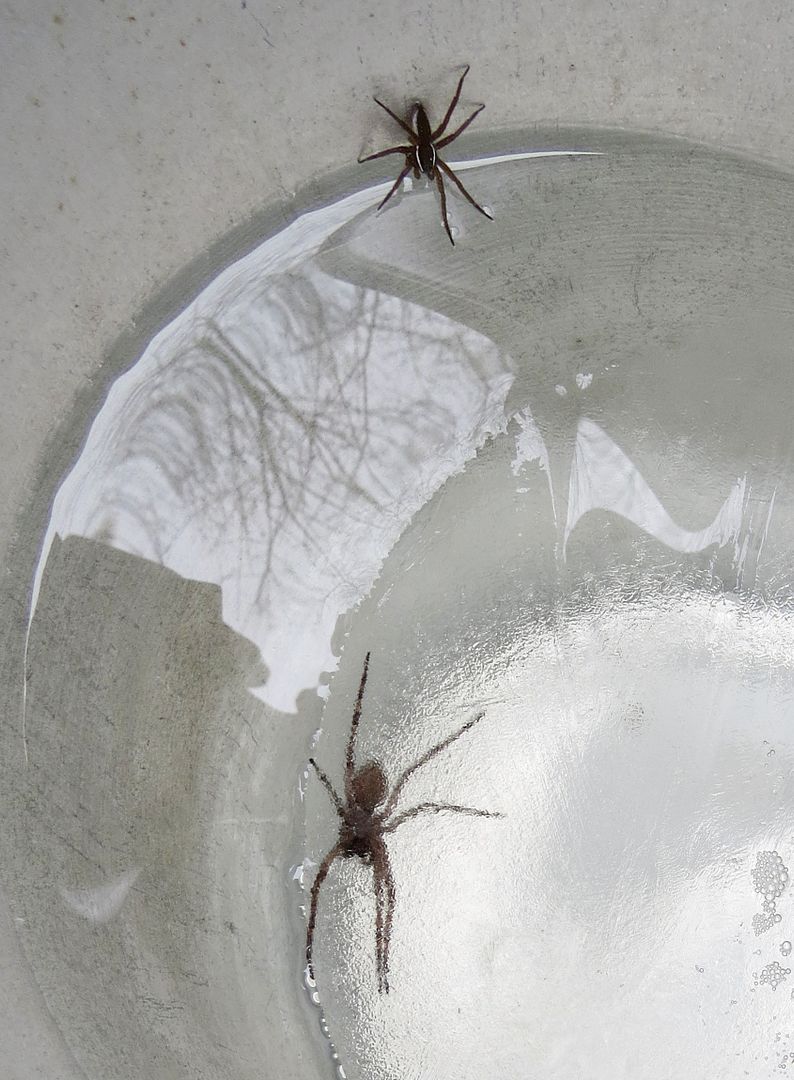 A smaller male Fishing Spider tenaciously cling to the dry side of the ice and passed eight-eyed glances at his potential mate below. I assumed the female was dead because she was totally immersed and obviously had been for some time. Jarring the bucket, however, stimulated some leg movement and proved otherwise. Long story short, I liberated the hapless couple and send them on their merry (if slow moving) frigid way. She was short one leg but otherwise none the worse for wear.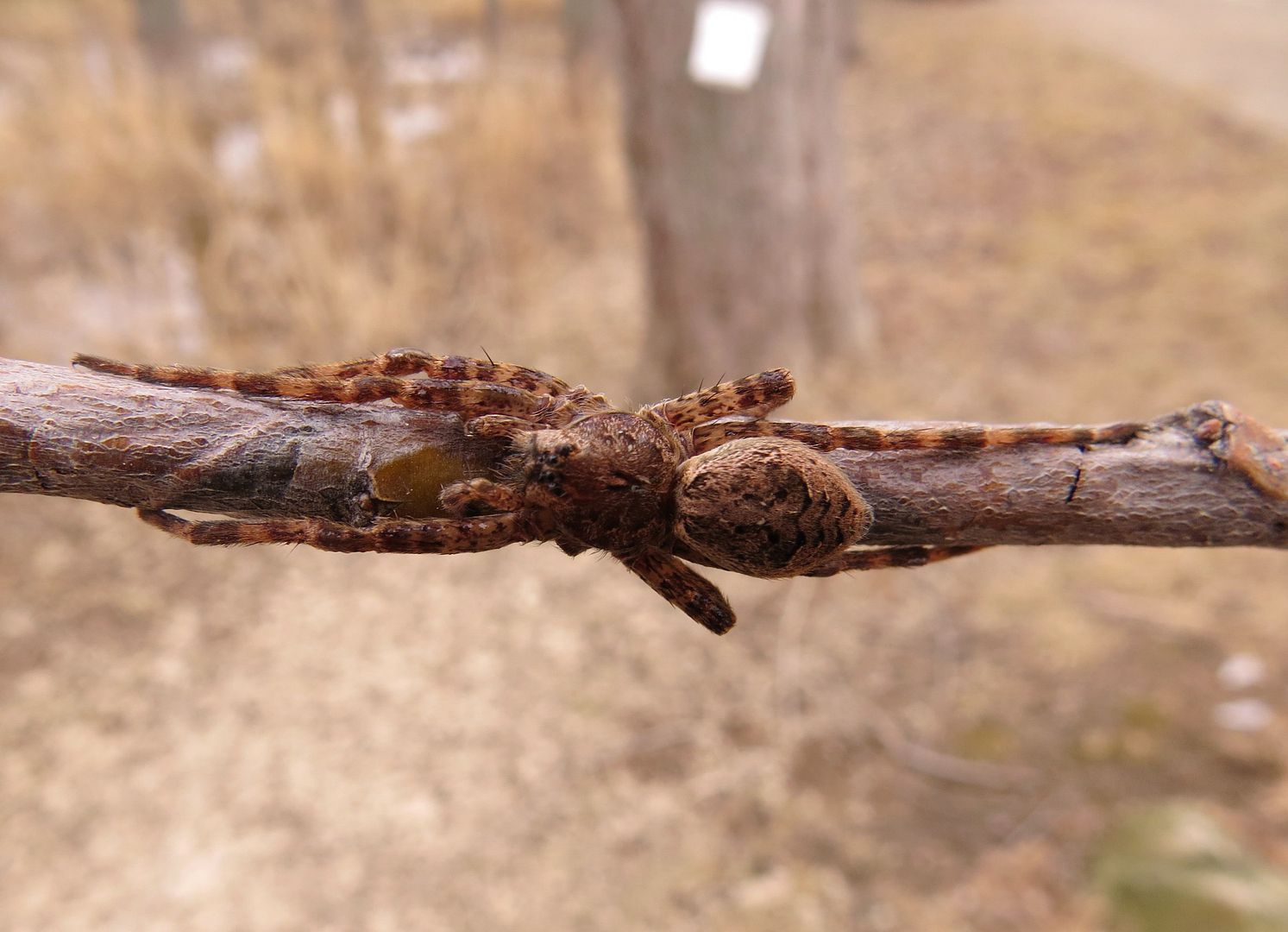 Fishing spiders are water spiders, so being in liquid is a natural thing for them. They are not long-term aquatic beasts, however. Like all arachnids they breathe oxygen through flap-like "book lungs" and they depend upon their coat of fine hairs to trap an air-filled bubble layer around them when diving. They can't sustain this for a very long and need to come up for air. Apparently when frozen, or nearly so, the oxygen demand is nil and the hairs maintain a dry bubble wrap surrounding. The large female was dry as a bone when I rolled the ice over and removed her.
Several of the riverside buckets contained their share of Winter Stoneflies. These dark bodied insects are the very essence of the winter spirit and the sugaring season is their crowning moment in life. Equipped with only poorly functioning mouths they must have been attracted by the sugary sap ice. Freezing concentrates the fructose sugar at the surface and it can be lapped up like a Popsicle. As they say "A Stonefly in the sap bucket bodes well for the river that flows near it." Again, this is not a traditional saying, but it should be. Stoneflies are good omens and these individuals speak well of the purity of the River Raisin.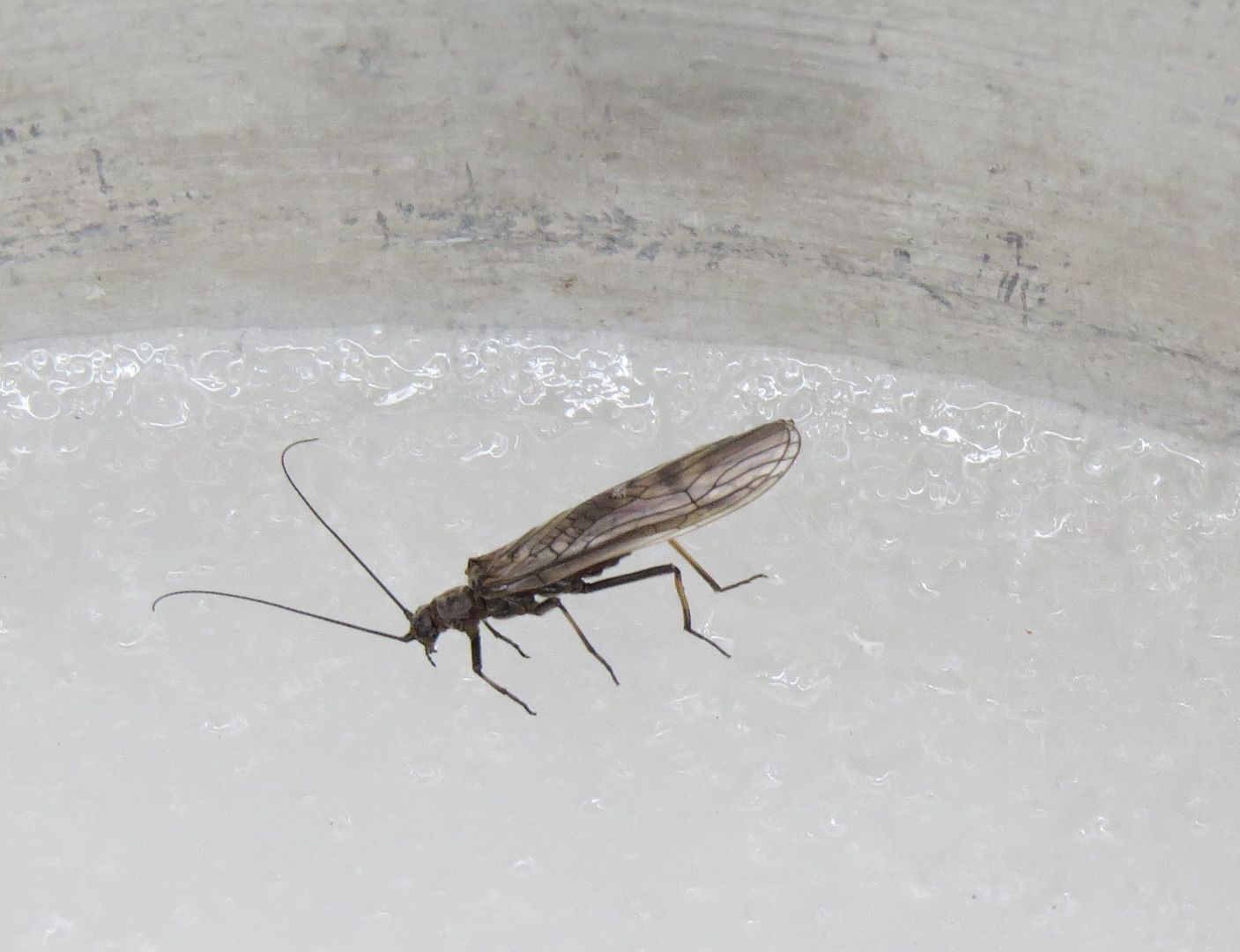 As aquatic nymphs they can only live in clean, flowing, high-oxygen water and are very pollution intolerant. Since cold water contains the highest amount of oxygen, these creatures restrict their activity to the cold season. The nymphs actually burrow into the river bottom and hibernate during the summer (yes, you read correctly- summer hibernation) to avoid the warm oxygen poor summer water. They come back out to finish up their life cycle as fall arrives and emerge as winged adults as soon as the ice breaks up in late winter. The cold-tolerant adults only live for a short time after mating but know a good thing when they find it in a bucket.
You know what they say: "A Stonefly in the bucket is worth two spiders in the Drink"