We officially "opened" our tiny cabin for the season and I un-officially opened my lake eyes last week. Only a few weeks earlier the water was still frozen solid, but on this bright April morning Dollar Lake was coming to life.  Save for some pale Spatterdock leaves pushing up from the bottom there was very little flora visible in the dockside water. Only a sparse faunal assemblage greeted the eye. Small schools of Spot-tailed Shiners swam the shallows and a couple of water beetles cavorted among them. The beetles proved to be Predaceous Diving Beetles and, true to form, these critters were predating and diving.
One of the beetles grabbed onto an injured minnow and carried it under the cover of some floating debris. It's not clear that it caused the original injury to the thing but obvious that it was intent on finishing it off. Adult Predaceous divers are, despite their name, more scavenger than killer.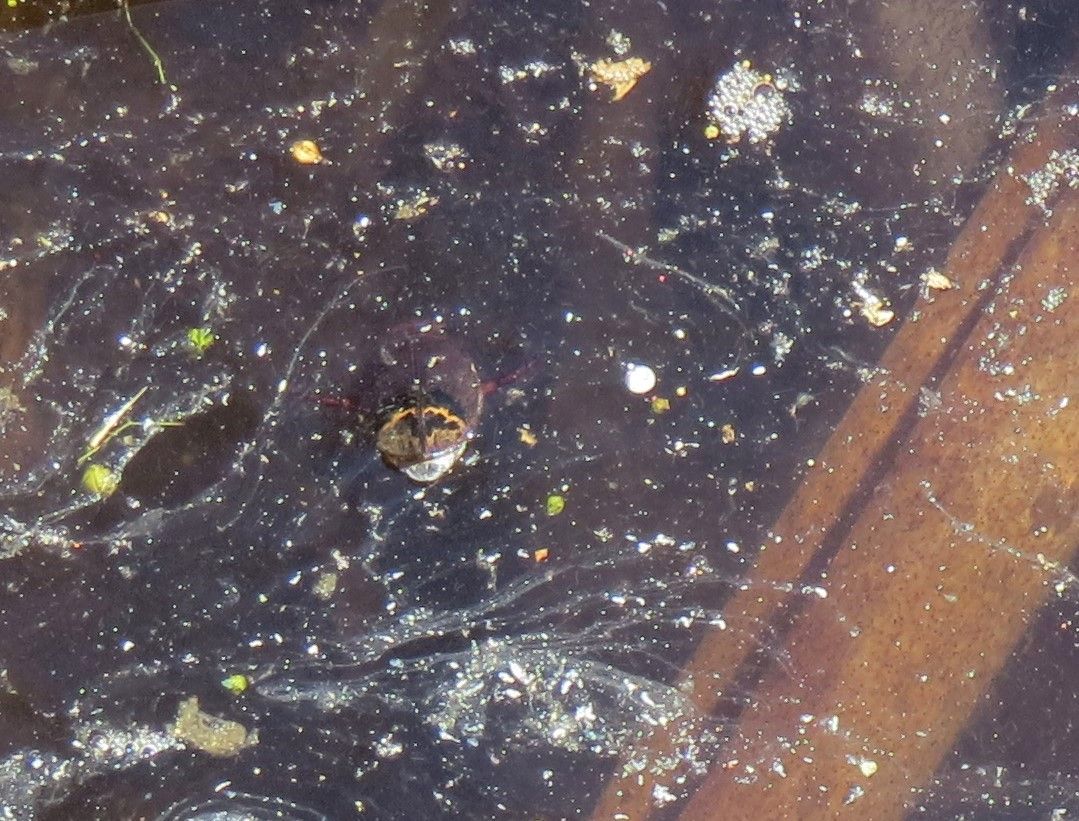 Another individual backed its hind end out of the water in order to take in a supply of oxygen into the bubble under its wing covers (see above). Although it should be no surprise, given that Predaceous Diving Beetles are air breathers, it was a bit surprising to see two of them eventually crawl out of the water to warm themselves in the mid-day sun. It was a bit like the "Predaceous Diving Beetle Show" and they were performing every trick in the little live book of water beetles.
This particular species apparently has no common name to speak of, but is known as Acilius mediatus in the big book of Water Beetles.  The species name means something like "being halved or in the middle" in Latin and the genus name refers to a Roman proper name, so I guess we have to say the whole name means "Half a Roman."  That is, of course, ridiculous but then again I never claimed to be an etymologist or even a trained entomologist.  Why not just call it "Simpson's Bohemian Water Beetle" and leave it at that. Personally I think the "Mediator" would do the trick (it sounds sort of like the "Terminator" without the copyright infringement).
As for lifestyle there is little in the literature that is specific to this beetle. Like all members of the predaceous diving clan their larvae are voracious aquatic predators. This species prefers small forest pools with bare peaty bottoms. Dollar Lake is certainly nothing more than a glorified woodland pool, or half a lake, and would fit the habitat definition for this half beetle.
Whatever the real name, the Mediators are attractive little insects. The shelled portion of the body is very smooth and the brown elytra nicely marked with a wiggly tranverse design. Clearly displayed on the sunning individuals the back set of legs are equipped with an oar-like fringe for swimming. Short front legs are used for grasping prey (or simply holding onto half-dead prey).
I spent a half hour and took a half a dozen pictures of these beetles before the beetle show ended. A cold gust of wind rippled the surface and sent the beetles back into their element and I back into the warmth of my "half a house" to dream up a possible back story for justifying a glorious name like Simpson's Bohemian Water Beetle.