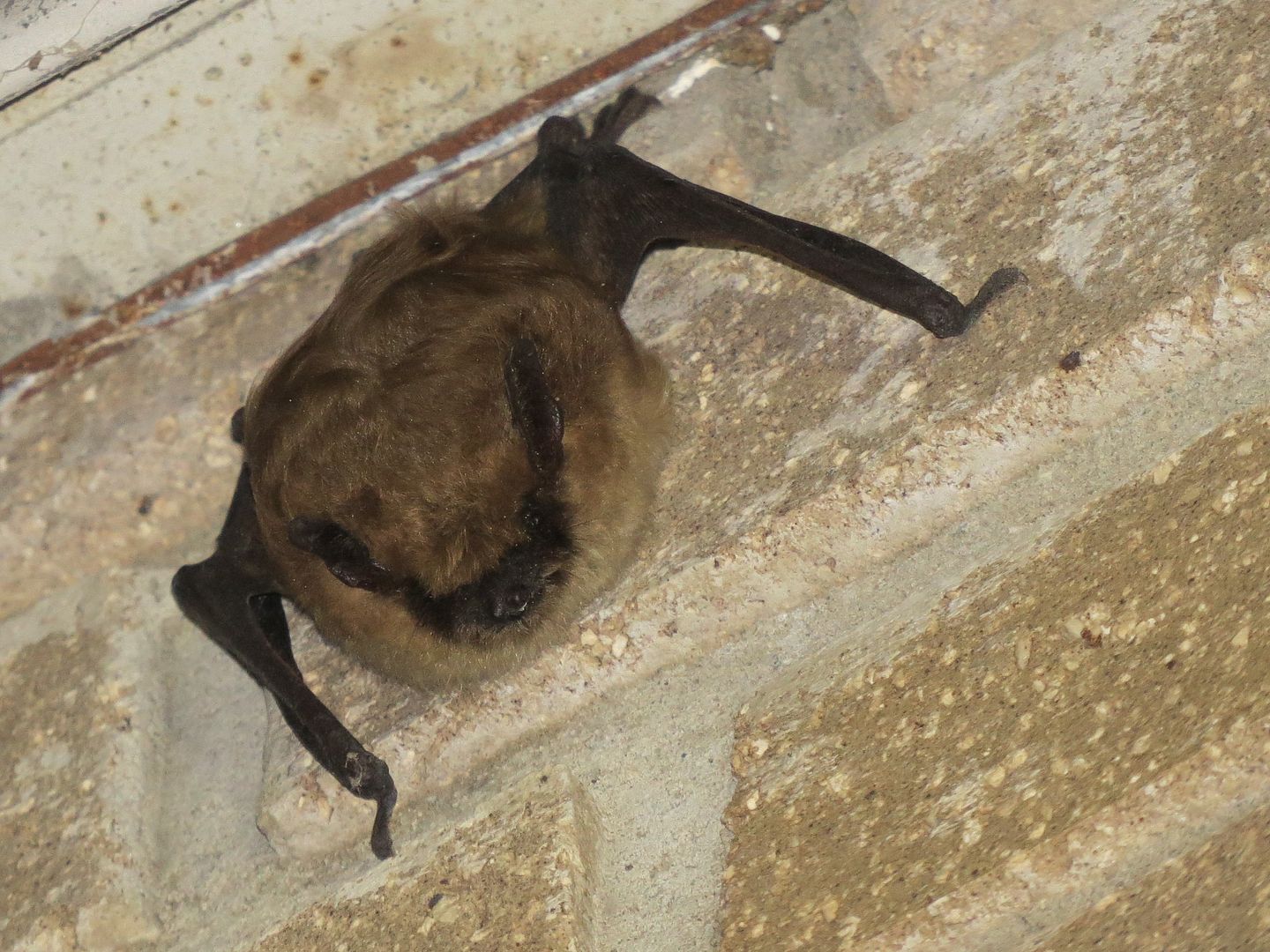 Last month, I brought you a little story about a Big Brown Bat hanging around the Monroe County Historical Museum. The little fellow showed up quite suddenly during one of the spring cold snaps and appeared to stick around due to the sustained cold. His chosen location was well sheltered and, in fact, cave-like.  I figured he was in "semi-hibernation" and simply waiting out the cold. We all enjoyed his presence (named him Bruno) and expected an equally speedy departure when a real version of spring arrived later in the week.
When things warmed up and the creature was still present, I began to doubt my earlier assessment. There were no droppings under his perch, but figured this was due to it being a day roost. His pose was virtually the same every day, although "seemed" to shift slightly, perhaps, maybe….. Last week, I checked him out at night and found him still in position and realized something was wrong. When he later dropped to the ground – small, withered, brown, and very dead – at least part of the mystery was solved.
Not only was the bat dead, it was mummified. I thoroughly examined it and can say, in Wizard of Oz fashion, that he's indeed morally, ethic'lly, spiritually, physically, positively, absolutely, undeniably and reliably dead. And … "not only merely dead, he's really most sincerely dead."
In short, he apparently died soon after arriving and his death grip kept him suspended via his claw-like hind feet for those many weeks. In other words, my fellow munchkins, he's been most sincerely dead for a long time.
I found a small hole in his side that might indicate an injury caused by a BB or shot pellet. Thus we can rule out rabies or distemper with such graphic evidence. Besides, I licked him and haven't shown any sign of rabidity yet and it's been a few days (although I am very thirsty as of late). My last theory on this matter, is that after being injured by an ignorant pellet gun shooter the creature sought a perch and died there a few days later. Wind gusts were shifting him about over the weeks and drying him out in the process. One final gust un-hooked his cold dead claws and sent the tiny corpse earthward.
I went back to the last photo I took of him (see the first picture – yes, that is a dead bat!) and saw the evidence I should have picked up on earlier. There was dust on his fur (something that never would be permitted by a live bat) and a sneer on his face that was very un-batlike. And the dropping thing?  Well that was just plain dumbness on my part. A live bat deposits dropping equally at a day roost and a night roost.
So Bruno the mummy enters the annuals of history and I am humbled by a dead bat.