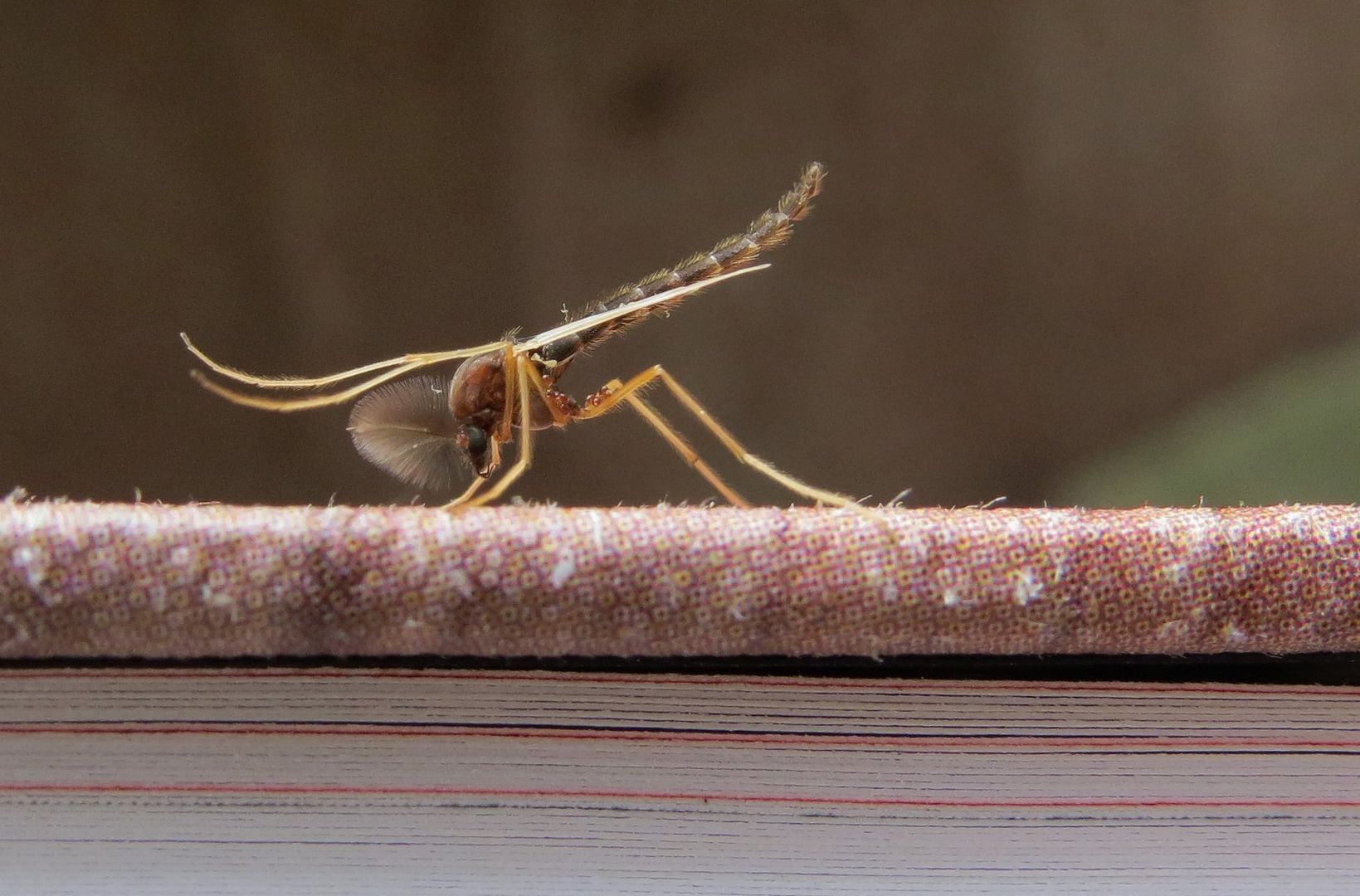 A midge with mites upon 'em
might be covered top to bottom.
Though small the midges are,
Their mites are tinier by far.
Let me start out by saying that Chironomid Midges are not Mosquitoes.  Similar looking to their blood-sucking dipteran cousins, they do not, and cannot, bite humans. I figure that knowing this will enable you to reserve your slapping energy this summer.   As larvae, midges live in the water and glean a living off microscopic plant matter and detritus. As adults they emerge and engage the world as flying beasts – seeking sap and each other.
Several of these critters landed around me one afternoon. All of them were males seeking refuge from the wind under the porch eaves. I was reading a book about making moonshine whiskey but I doubt that had anything to do with my sudden attraction.  Male Midges have hairy "plumose" antennae which make them easy to separate from the narrow-antennaed females. Heeding my own advice I did not try to shoo them away. Instead, I did the opposite and carefully observed them through the lens of my camera. When several revealed that they had passengers in the form of tiny red mites I was, as they say, "engaged." Those ensy-weensy flies had ensy-weensier cargo attached to their legs.
Without getting into details, there are probably dozens of species of mite that infest midge flies alone. I found at least nine species over the course of my cursory review of the subject and all are members of a group known as Hydrachnidia. Like the midges, the mites are aquatic in the very first stages of life. They attach to the midge nymphs and transfer to the adult when it emerges. While attached they feed on the body fluids (aka blood) and eventually drop off into the water to resume an aquatic life. While their young are parasites (specifically ecto-parasites – which means they stay on the outside of the body), the adult mites are aquatic predators. Mites are related to spiders and possess eight legs when adult.
Given the amount of mites glomming onto the two midges I photographed it is amazing that their host could fly, yet all flew with ease. The mites were concentrated on the legs and thorax and left the wings unencumbered. There is no way I could identify the specific mite species involved here because even on an enlarged image they looked like fuzzy views of the planet …er, excuse me…the planetoid Pluto. Researchers, however, have done some work on this topic and discovered that some feed exclusively on the thorax while others concentrate on the long segmented abdomen.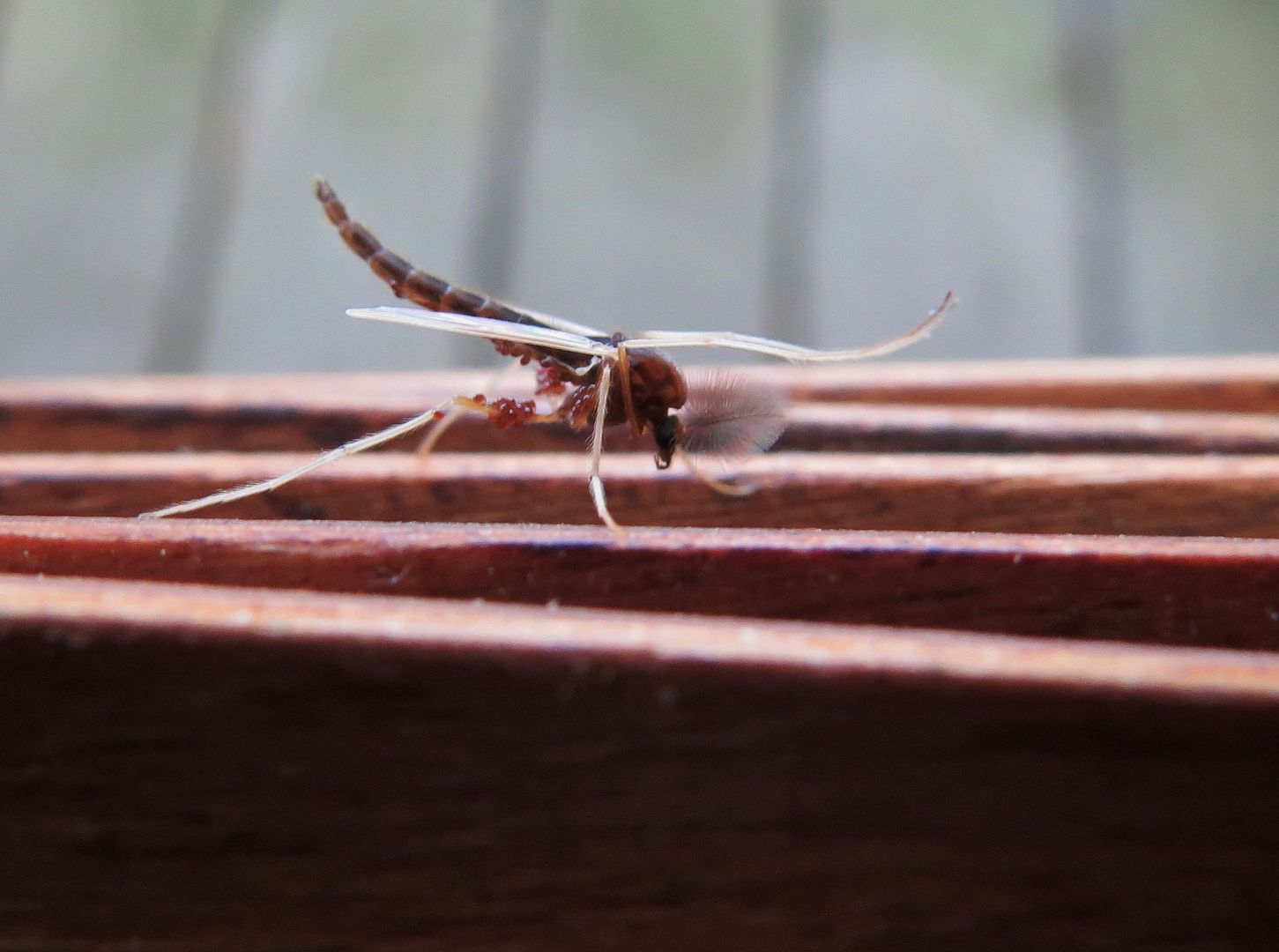 My small, along with their smaller, visitors would take flight after a few minutes and leave me to ponder several final thoughts. First, I assume that it is bad taste among midges to mention, or otherwise point out, the presence of mites on their fellow midges much in the same way as it is verboten to point out pimples or warts on humans. Secondly, it is imperative that these midge mites return to the water. It is their duty, therefore, to suck just enough blood out their host to live on but leave enough so that they can return to the lake. The idea is for the male midges to assemble with the females in huge midge clouds for the purpose of mating. I am guessing this is the moment chosen for the mites to drop off or forever regret their decision. There is much I do not know about midge mites, but for the moment this will have to do. Moonshine whiskey sounds a bit more fascinating for the time being.