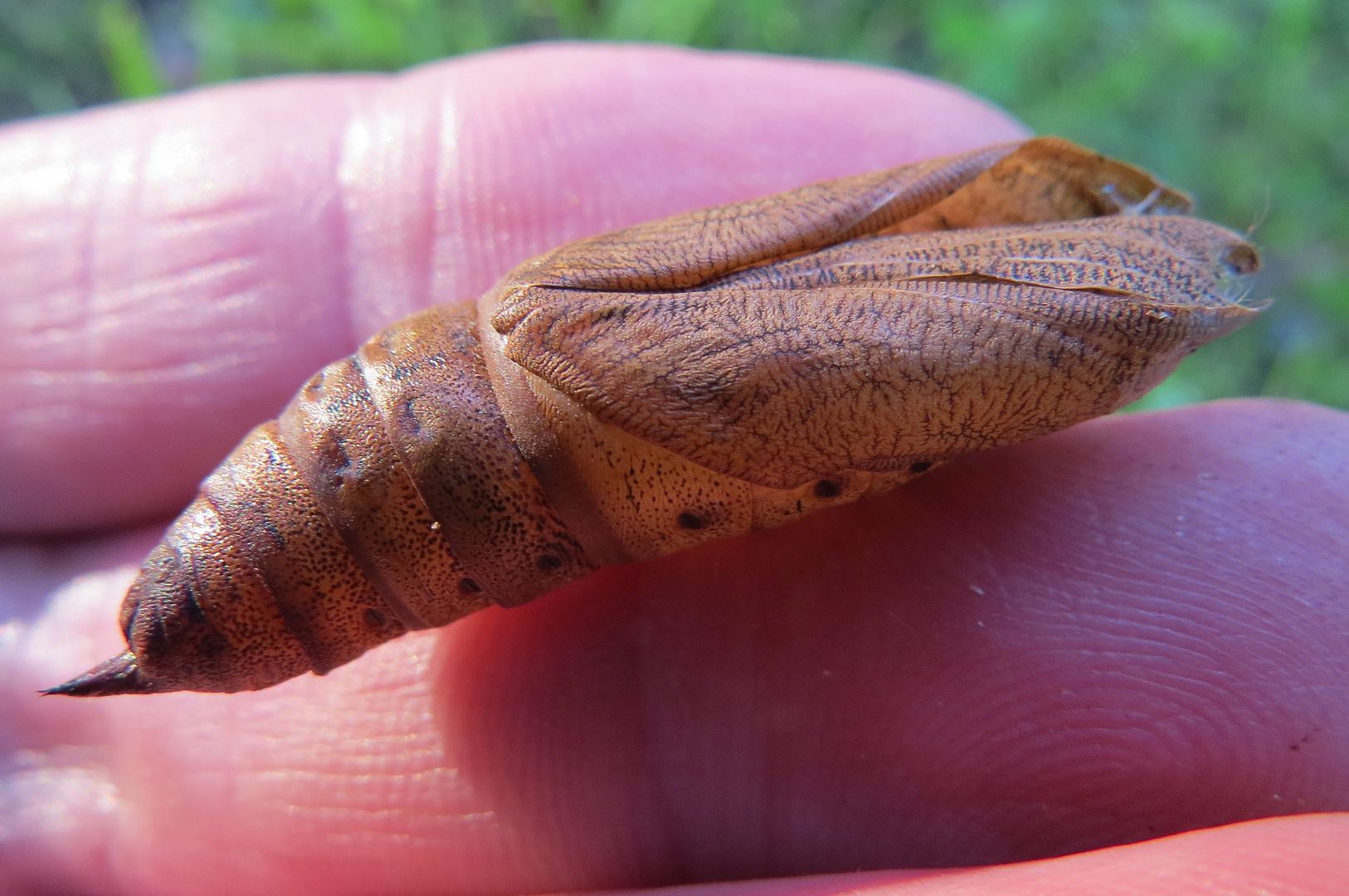 Last summer I brought you some incredible views of a Spurge Sphinx caterpillar from Northern Michigan. Later in the month, after the leathery burrowed into the soil to complete its third stage of metamorphosis, I peeled back the moss to reveal the equally fascinating pupa at the end of the tunnel. The adult emerged last month, after a long frigid winter at the bottom of a dirt filled coffee cup, and it was worth the wait.
I was afraid of missing the moment and came close to doing so. One can never tell when the moth will emerge after months of non-activity. There was even the possibility that the winter would prove too much – especially given how low the thermometer plunged at times– and that the pupae would perish. Let's just say that it was an incredible relief to finally peel off the lid last month and see the empty pupal skin (see above) and its former occupant clinging to the side.
I missed the actual emergent moment by a day or so and could see that the moth had been out for at least one night of activity within the container. Many of the scales were worn off the back of the thorax and the ends of the wings were slightly worn, but it was in pretty good shape otherwise. Spurge Sphinxes, like most of their clan, are subtle beauties to behold. The rosy flush evident on the body and undersides was especially magnificent on this individual.
Taking it outside for a better look in the low evening sun, it began to vibrate its wings in preparation for takeoff. Moths need to raise their body temperatures up to near human levels in order for the thorax muscles to work and they do so by shivering. This one began with a staccato flutter of the wings (see movie here) which evolved over the course of a few minutes into a blurry all-body tremor (see second movie here).
Just before takeoff, the thing was shaking so much that it was perpetually out of focus – or appeared so. With a final wipe of the eyes and a twist of the head it rose off my finger and flew off (see final departure here). Yes, it did seem to motion with the foreleg, as if giving a wave, but I won't go there. I'm the one that eventually waved, saying "it's been good knowing you."