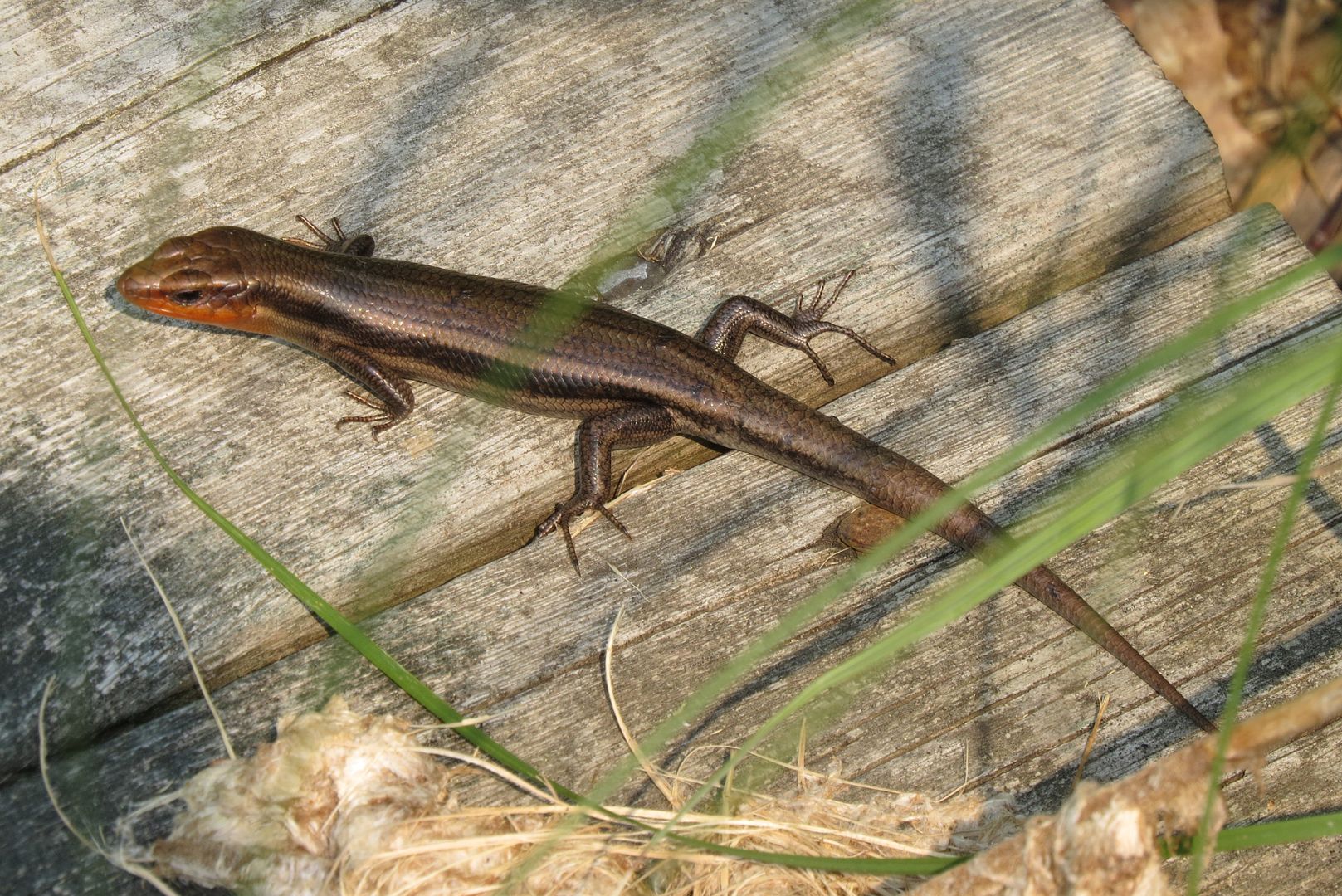 The skinka – the five-lined skinka to be precise –do what it hasta do to stay alive and healthy. A big part of this survival strategy involves keeping the inside fires burning and because lizards like skinks don't have inside fires they depend largely upon the generosity of the sun. For them life is all about generating warmth, keeping it, and turning it down when necessary.  An overly warm or dangerously cool skink is a lifeless skink. Cold-blooded creatures are not held hostage by solar power and ambient air temperatures, however. They can play the micro-habitats within a habitat like a fine-tuned instrument. A deeply shaded spot will allow for cooling, a lightly shaded location permits a slight elevation in body temperature, and a bright patch of open sun will, well, you get the idea. They move around quite a bit over the course of a day, an hour, and even a minute to exploit the mini spots within their macro domain.
The word to cover this life skill is behavioral thermoregulation, is only slightly shorter than the length of the creature itself. I promise not to use it again except in passing.
My Dollar Lake dock is part of the range of a cluster of Five-lined Skinks who use it from time to time for sunning. I never know when I'll spot one and will go many months between sightings. Last week I nearly stepped on one. The individual, an adult male, was only slightly perturbed by my presence. Adult Skinks lose the five line blue-tailed look of youth as they mature and attain a bright reddish hue about their heads – looking as if they were victim of a head cold.
The skink did a surprising thing within my view. Rather than run off, it pressed its belly and chest flat against the dock wood and folded his feet back as if in a strait jacket. In this legless pose the thing absorbed heat from the warm surface. Within a moment or two it rose up and flitted across the dock and jumped into the shoreline weedery.  This being the first time I've actually observed a behavior other than fleeing I was fascinated by this deliberate little act of thermoregulation. It was a tiny peek into the skinkas daily do…ings.