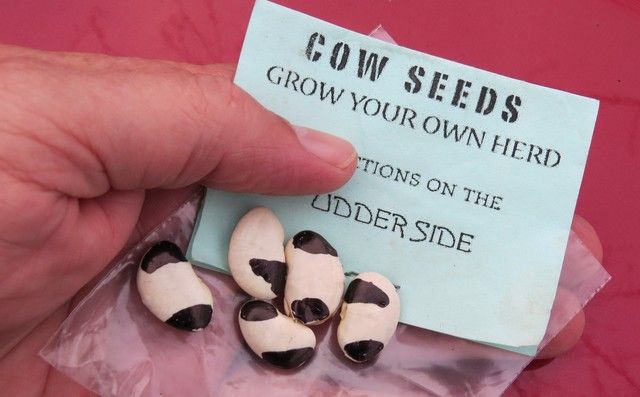 I knew it was my moment. I purchased a pack of Cow Seeds at a garage sale. The package looked a bit worn, but thought the black & white contents might still be viable. The 10 cent price tag was ridiculously low, given that they could potentially produce 5 full grown Holsteins and, although I didn't know exactly how much they were worth, I did know that cows were very expensive items. Keeping cool and poker-faced I boldly negotiated the price down to 5 cents and smugly walked away knowing I had bested the seller (Jack was his name – a beanstalk of a fellow who obviously didn't know beans about value).
Because the season was late, I waited until this spring before actually planting the bovine seeds. Even though the instructions clearly stated that cow seeds did not need manure, (because they produced their own), I opted to throw them into a patch of manured ground on a small farm located west of Mackinaw City. I had no idea who owned the farmland, but thought that immaterial. My decision was hasty, but not udderly without thought. I'd return soon after and claim my animals – citing accidental planting and exhibiting the torn empty package as proof. I'd offer the farmers a few dollars for their time, feed and care of my stock and drive off with my cows in tow. Good sound reasoning, yes?
I even had it figured out that I could tap the animals for milk every few days using my left-over maple syrup spiles and buckets. If, by chance, any bulls turned up in the bunch they would have to be butchered for market using my Swiss Army Knife tool array.  But, since this package was clearly labelled Cow Seeds I doubted such a thing could happen. If it did then there would be a clear case of false advertising and the courts would back me all the way.
In retrospect, my naiveté couldn't have been more profound. I could only have wished to deal with a simple bull issue! I suspect now that they were not, and never were, Cow Seeds but instead deliberately doctored knock-offs made to look like Cow Seeds. These seeds did not produce cows, or any sort of bovine – heck, you'd expect an errant pig or two in the mix but the trouble was much darker. Snow Buntings sprouted from the frozen manure when they were planted. Yes, Snow Buntings.
I'll take some minuscule blame here. I'm not a completely ignorant. Perhaps it was a bad idea to plant the seeds on a bitter cold April day. There was always that slight risk that the resulting cows would turn out to be Yaks or Musk Oxen if the temperature was on the cool side. Perhaps Mackinaw wasn't the smartest location either. They could have emerged as ready-tanned tourist Moccasins for sale in one of the main street shops.  Even cow birds would be on the list of expected potential unlikely outcomes, but for God's sake who'd expect a flock of tiny flighty Snow Birds.
Trying to make root beer out of the lemons handed me, I started to snap off pictures of the birds. Not only would these be valuable proof in the ensuing law suit but I really hadn't been this close to live Snow Buntings before. Most of these temporary winter residents were gravitating back north to their high tundra breeding grounds by this time. The males were decked out in their glorious black and white courtship garb.

Snow Buntings don't molt into breeding colors. They achieve the phase through feather wear. Earlier in the season most of the body feathers were tipped in yellow brown – in which case the males looked like the females. The feather tips deteriorate over the season and leave only the stark contrasting shades intact.
Now, don't get the idea that just because I got some good photos of these birds that I am not fuming about the whole thing. The ungrateful visitors took off like a gust of winter breeze and vanished before I was done shooting. I was left with a pile of frozen dung and deep regrets. My Five cents was gone just like that. Never again, I said to myself as I snapped the lens cover back on and trudged through the drifting snow to my car.
I will get my comeuppance. I recently purchased some Red-winged Blackbird Seeds at the Farmer's Market and plan to sell them to Jack as Scarlet Tanager Seeds. Yes siree, he'll wish he'd never crossed me.