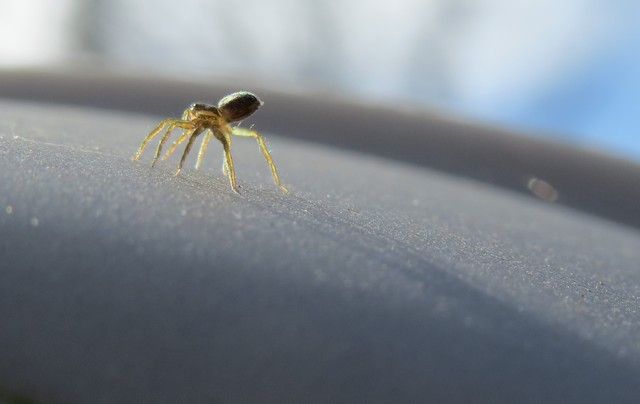 Although few and far between this spring, a scattering of nice spring days have bubbled up to the surface. On such days, the sun takes the edge off the cool winds enough to call them refreshing – as opposed to the de-fleshing blasts of unfriendly days. Newly hatched spiders, blossoming maples, swelling cottonwood buds, and short-wearing youth clad with heavy coats signal the return of reasonable weather.
It would normally be my preference to focus on the cottonwood or maple flowering part of the season, but since I've already addressed them in the past it was a choice of youth or spiders. So naturally I gravitated to youthful spiders. Actually it was trip across the road to get the mail that prompted this post (my first in half a year due to an onset of "authoritus" – meaning the writing of a book and not writer's block).
Astride the top of the mail box, a tiny spiderling barely 2 mm across scrambled to the highest point. There it paused before assuming a tripod stance and lifted his abdomen high into the air whenever a gust of wind fluttered by. It was attempting to deliver itself as air mail unto the mercy of the postal breezes. I was struck by the ironic mix of duty and place.
Unseen to my naked eye, and to the camera lens, the potential pilot sent out a series of two or three long radiating silk threads from its spinnerets at the tip of the abdomen (thus the stance).  These lines will be grabbed by the wind and eventually lift the tiny cargo aloft. Scientists call this method of travel "ballooning." It is a primary means of dispersal for young spiders. We are not sure what the spiders call this procedure, although the fictional Charlotte would have been able to write it out in her web. Like the babies in "Charlotte's Web" my micro-arachnid was seeking new ground via the magic of free air.
Ballooning is a risky means of travel since the spider has little control over its fate once pulled into the air stream. After all, we all know the story of the hapless professor who started his balloon in Kansas and ended up in the Magical Land of Oz. Most spider flights take the passenger a few dozen yards – enough to get it away from its fellow spiderlings and onto new hunting grounds.  Frisky gusts, however, can take a spiderling for miles horizontally or vertically and turn them into what has sometimes been referred to as aerial zooplankton. Certainly some end up tangled in maple flowers, upon swelling Cottonwood buds, and even onto the purple hair of a short-wearing youth clad in a heavy coat.
I do not know the fate of my spiderling because it failed to launch after several attempts. To spare it further embarrassment I left it alone and now imagine that the wee spider ended up in Oz.