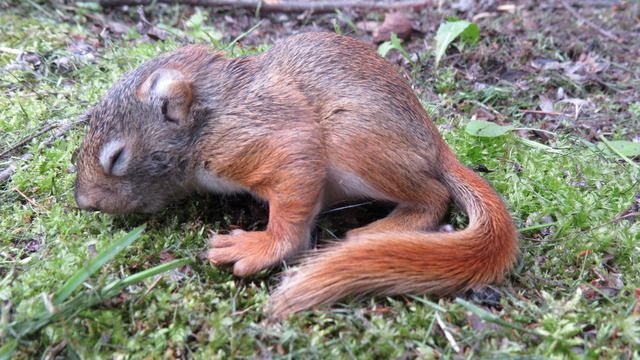 For the three people that occasionally read my blog, you may recall that I have a thing about Red Squirrels. I may appear un-naturally interested in them because I've featured the little red devils in several blog postings. Be advised, however, that my interest is forced -they have done everything possible to disrupt my life. I, on the other hand, have done little to stop them. In fact I have consistently forgiven them for transgressions such as filling my riding lawn mower with walnuts, nesting within the engine compartment of aforesaid lawnmower and cutting all the wires, shredding every storage box I own, and removing the entire insulating layer under my truck hood for nesting material. I have every right to wish famine and plague upon them, yet I am drawn to them like a hapless moth to flame.
Recently our paths crossed once again under the hood of my truck. Badly needing a muffler job…I said BADLY NEEDING A MUFFLER JOB, I….er, I parked the vehicle in the driveway for just under a week until I could get an appointment at Midas. On the day of the appointment I drove the truck five miles to the muffler shop for repair and returned at the end of the day to pick it up for another 5 mile trip home.
Walking up to my vehicle, parked at the far side of the lot, I spied a reddish-brown lump on the pavement under the driver's side. "It looks like a baby squirrel," I thought to myself, "but must be a squirrel-shaped leaf."  Upon closer approach the lump turned out to be a squirrel-shaped baby Red Squirrel – so young that it could never had made it to that location under its own power. Deducing that the creature must have come with me as a stow-away in the engine compartment (no one else is plagued by Red Squirrels like I am), I corralled the feisty critter into a bag and returned home.
My plan was to plop it out into the yard and wait for the negligent mother to pick it up its long lost youngster with no questions asked. I never left one of my children under the hood of a vehicle, but who was I to judge? I placed the tiny orphan in the back yard next to the squirrel-infested lawn mower shed.
Hours later, I spotted the Red Squirrel baby in the driveway under my truck. The distance was a good 50 feet from where I had placed it. That would, indeed, have been an incredible journey for a barely mobile squirrelet had it of been the same animal but it was not! The original baby was still laying where I put it by the shed. No, this was baby Red Squirrel No. 2.  They were now issuing from the truck like manna from heaven. I put the two nest mates together and they immediately snuggled for warmth.
I banged on the truck hood with frustration and was answered by a muffled chatter from within. Either my oil filter was talking to me or there was a more realistic explanation. Popping it open, I espied yet another youngster of the Red Squirrel kind laying in the space under the air filter. This was baby no. 3.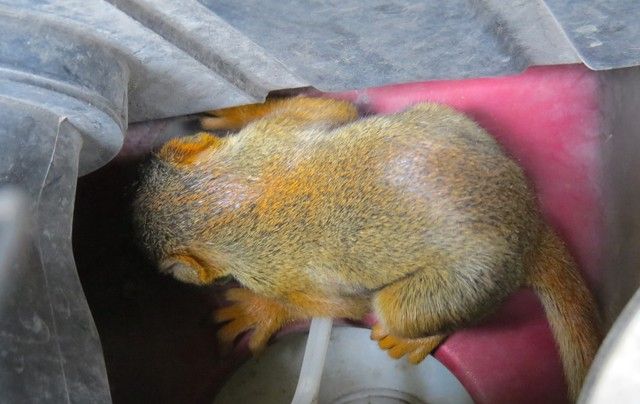 Finding the third subject inside the engine compartment confirmed that the other two must have originated from the same spot. None could have climbed into that place on their own. Mother Red Squirrel undoubtedly brought them there for temporary placement while seeking a new nest hole. I must add that my truck is red, but can't say if that was a factor in her decision.
Imagine the horror within her peanut-sized brain upon discovering that her children had been taken for a 10 mile joy ride. Imagine my horror upon realizing that Red Squirrel litters are usually larger than three individuals! (In other words how many of them dropped out along the way?)
I left the one baby in the engine compartment for the night and placed the other two on the ground nearby. They were all gone by the next morning and I can only hope that their mother removed them to safer surroundings. A raccoon may have feasted upon the ground babies but the lack of an engine baby points to a natural removal.
You might say that I missed a golden opportunity to rid my yard of three future Red Squirrels. It would have been so easy to hurl them into the creek and be done with it, but again I failed.  These little ones will grow up to be slightly larger ones and continue their legacy as chaos machines. I am a human moth and they are the flame.