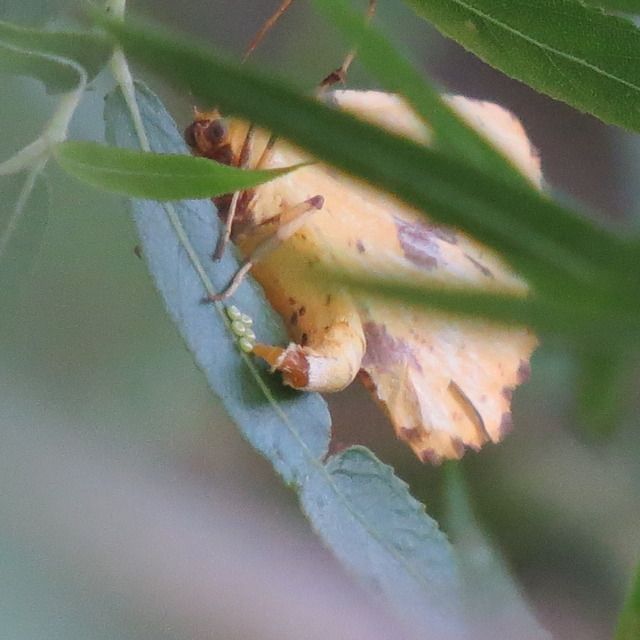 The night air was just settling in after the sun dipped behind the oaks and pines lining the opposite side of Dollar Lake. A group of Green Frogs were performing their syncopated "ga-lumping" and the last dragonflies of the day were hovering about the Spadderdock. I was standing on the dock waiting for the muskrat to re-appear. This particular individual had an unusually large pair of ears – odd for an animal known for very small appendages in this regard. I'd taken some pictures of the rabbit 'rat earlier in the day but wanted another crack at him. I'm sure he was less anxious for a re-meet and was deliberately waiting for the disappearance of the human at nightfall. I was about to give up, seeing that the light was dimming fast, when a movement in the brushy willow to my left caught my attention.
A fluttering yellow moth was treading among the narrow leaves. The critter decided upon a single dangling leaf and momentarily hung motionless. Although it was located about ten feet away, I noticed that it curled up its abdomen in the manner of an egg-laying female. A view through my zoom lens revealed that it was a Crocus Geometer Moth depositing a new generation.
The view was obstructed, and the light was poor, but in the absence of Peter Muskrat this nature scene would have to do. The satiny green eggs were planted on the leaf surface near the mid-rib. Her extended ovipositor placed each egg so that it was paired with another. The activity proceeded at a slow deliberate pace and I ran out of light before seeing how many she laid (nor could I located the leaf the next morning due to the long-distance nature of its placement and the fact that all willow leaves look pretty much alike!). I counted at least nine by last light.
Crocus Geometers are members of a group of moths better known as inchworms. It just so happens that my previous post was about a larval inchworm and you might get the impression that I am a bit of a geometer geek. I am not, but will happily bear the mantle for the time being. Perhaps I will spot some of the larvae after they hatch out this week but I doubt it because these caterpillars are also twig mimics!
One last comment concerning this small natural event. There are several species of Crocus Geometers which are virtually identical, so my identification of this one as a "Crocus" Geometer is admittedly tenuous (there are False Crocus Geometers etc.). It takes an expert making a detailed examination of the genital parts to tell them apart. I offer it up to anyone wishing to enlarge these images in order to confirm the particular species. I, for one, am satisfied just witnessing one of nature's small miracles.