There may be a masked killer lurking in your bedroom or in the deep recesses of the closet under the stairs. He is an ashen ghost who moves slowly and deliberately yet will strike with frightening speed at the appointed time. He is the dust bunny you will never see until it is too late. Don't look under the bed or shine a light into the closet unless you are prepared. Bwa ha ha ha! BWA HA HA HA! BWA H (cough, cough, hack…). Darn I hate these dusty places.
The Masked Hunter is a real creature. It lurks in the very places mentioned in my cheesy Halloween introduction but is not a threat to humankind. Rather, he is a beneficial beast that has taken up life in our abodes and feeds on un-wanted insects – some of which can be a threat to our existence. A member of the Assassin Bug clan, they are equipped with hollow stiletto mouths with which they drain the life juices out of their prey. Although ants, beetles and other unwelcome guests form the bulk of their fare, bedbugs are targeted when present (note the words "when present" – the presence of masked hunters doesn't mean bedbugs are about).
A full grown Masked Hunter does not wear a mask. As an adult it is a stealthy predator that needs no disguise. As a nymph, however, it becomes a living dust bunny and covers itself with a mask of dirt and fibers. Long sticky hairs cover the body and accumulate the necessary material. The overall look is so well done that it is difficult to pick out individual features other than the six legs. The eyes are mostly covered and the antennae bent so as to look almost twig-like.
To enhance his appearance, the masked Hunter employs some method acting. Dust bunnies do not move so this dust clone moves very little. When prompted with a touch or a slight breeze it will advance with stilted stop-motion steps but only goes a short distance before freezing once again. The act is of Oscar quality. As a Halloween costume it is much better than any of the "Breaking Bad" or "Olaf" costumes that appear at your door, although a child acting like a masked hunter would take forever to get around the neighborhood and dearly try the patience of the attending parent.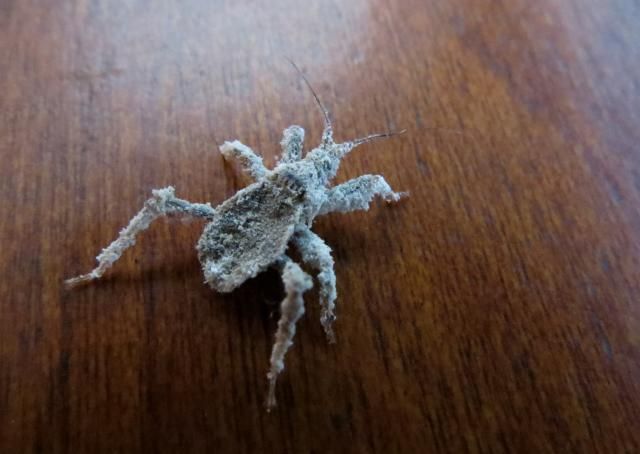 The Hunter pictured here, although photographed within the setting of my house, did not come from it. It was found within the coat room of a very new and non-dusty church! Against the dark short carpet the thing stood out like a sore thumb. I will release it again so that it can continue to do good, but haven't decided whether to bring it back to the church or let it go here. The more I think of it, I'lI put it into the bag of the child that comes to my door dressed as a bedbug….bwa ha ha ha HA HA HA H (cough, wheeze, hack).