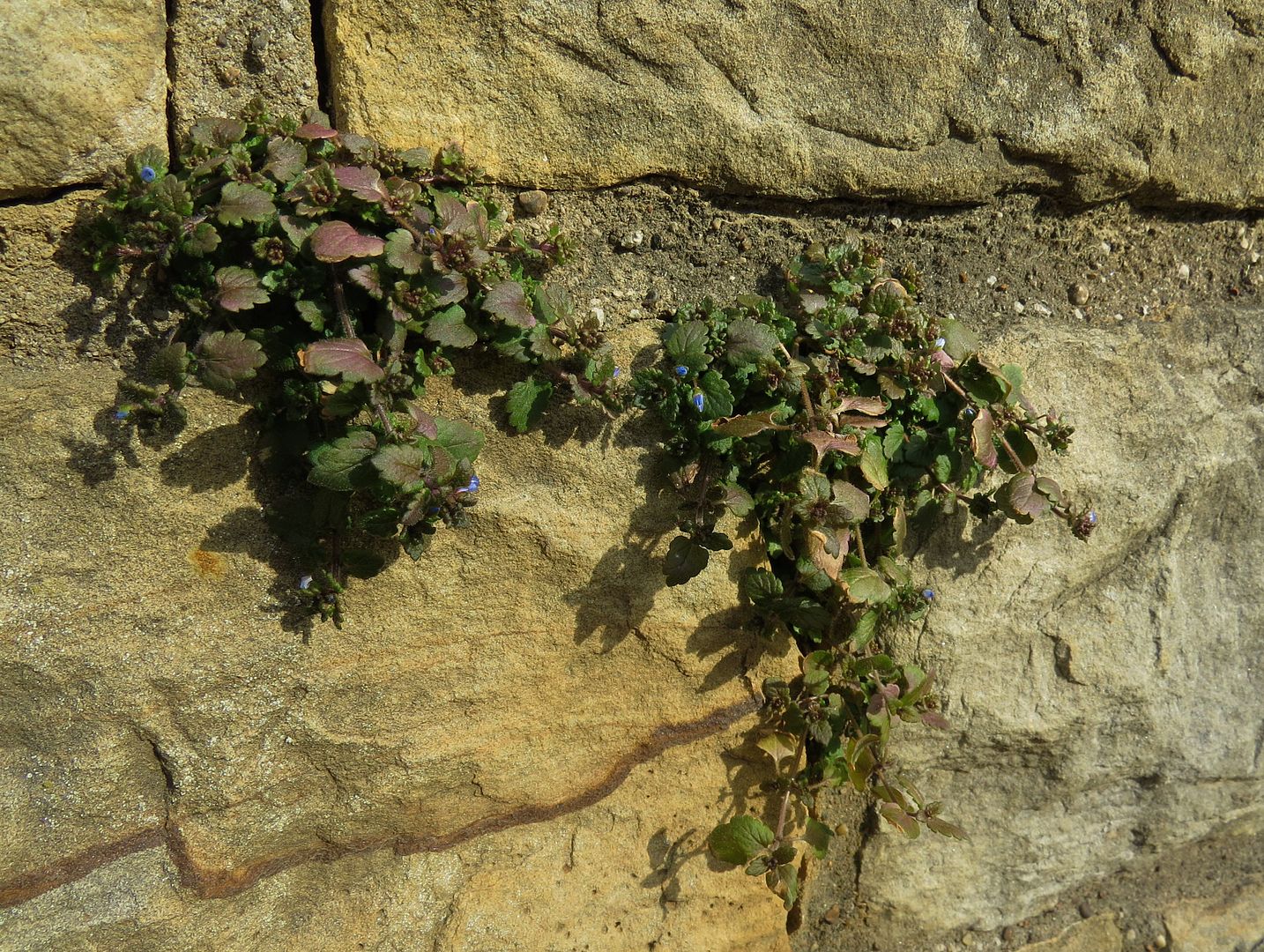 It wasn't a miracle but given the context it kinda seemed like one. There growing out of a chink in the stone wall at Audubon State Park was a Persian Speedwell (aka Bird's Eye Speedwell) in bloom. They were tiny blooms – near microscopic, in fact – but flowers none-the-less. I should mention that it was early-February and that the temperature hovered in the low 20's. The biting winds, accompanied by snow flurries, were dragging the wind chills down into zero territory. It was cold enough to drive any human to seek shelter. Yet, this exposed little plant was mocking the season with an unseasonable display of green growth and sky blue petals.
As stated in my last blog, Audubon Park is located in Henderson, Kentucky on the south bank of the Ohio River across from Evansville, Indiana.  This place is "southish" but not near "fur enuff to 'spect greens to be sproutin yit."  All of the native plants were still deep in winter mode. Even the maples where suspending any hope of running sap. Even though it is an anthropomorphic term, moxie is the only word that came to mind regarding this plant.
A weed by any other name (originally from Eurasia), the Persian Speedwell is a splendid example of what is referred to as a Winter Annual. By definition such a plant germinates in the autumn, lives through the winter, produces seed and dies the following season. It goes beyond all expectations, however, to actually bloom in the winter when early spring would do just fine.
Though hairy, the Speedwell is not especially so and what little it has provides meager to nil insulation value. No, it appears that the secret of this particular Speedwell's ability to bloom at such a stressful time can be chalked up primarily to location, location, and something else….um, oh yes, location. Located on a south facing stone wall it can bask in the direct rays of the winter sun. The micro temperatures that surround the plant would be well above the ambient temperature on sunny winter days. The rocks would also store some of the heat and buffer the nighttime environment a bit as well. This plant took these slight advantages and ran with them.
Here is yet another example of how nature's rules, although they can be set among stones, are not set in stone. There really are no rigid rules in the natural world. Just ask the flocks of frigid Robins hanging about Evansville on that same day. In spite of modern myth, Robins are not Spring birds but year-round birds which frequently overwinter on site. They are used to cold weather. Those birds seeking shelter in the leeward side of a holly bush, however, looked miserably cold and self-doubting. Should I have told them about that cheery little Speedwell flowering over yonder I'm sure they'd of told me exactly where to stuff it.